Forest Bathing and Japanese Antiquity in Kyoto
While Kyoto is a modern, urban city at its center, part of this ancient capital's strange magic is how easily it can transform from concrete and pavement to complete and total serenity from one corner to the next. Less than three hours from Tokyo by bullet train, this smaller city—manageable on foot or by bike—feels a world away.
Eastern Kyoto 
Don't know where to start? The east side of Kyoto, an area known as Higashiyama, is a perfect introduction to the traditional beauties of the city and a fantastic walk (or if you choose, hike). Start your day at Ginkakuji, the silver pavilion. While this pavilion isn't actually silver (and never was), it does make for a beautiful and serene stroll through the mossy grounds past iconic, dark wooden buildings.
Short Hike Up a Big Mountain
From there, you can walk five minutes north to the entrance of a hiking trail up Daimonji, Kyoto's most famous mountain. The kanji (Chinese character) for "big" is carved into the mountainside and can be seen from all over the center of the city. In fact, buildings in Kyoto have height limitations specifically to preserve iconic views such as this one. If you're lucky enough to be in town on August 16th, you'll even get to see this symbol lit on fire as part of the city's okuribi, a fire to send the spirits to their resting place. If you decide to go up the mountain for views of the entire city, it's only about a 30- to 45-minute walk; but beware, it's a steep one!
Higashiyama North
Your other choice is to continue south. Ginkakuji is the start of the Philosopher's Path, or Tetsugaku no Michi. This quaint stone path is about two kilometers long and runs the length of a canal lined with cherry trees. (Pro tip: If you're in town for the cherry blossoms, get to the Philosopher's Path early, around 7:30 or 8am, to bask in the serene quiet and beauty of the pink flowers before the crowds set in.)
As you stroll down the path, don't hesitate to stop into the many small temples and shrines along the way. Though these shrines are lesser-known than some of the nearby Unesco spots, small, peaceful moments shrouded in nature is what the local religion, Shinto, is all about. Our favorite is Honen'in, a Buddhist Temple with a gorgeous garden. The path ends at Nanzenji, a large Buddhist temple famous for its massive wooden gate and its cameo in Lost in Translation. The impressive grounds also feature a photogenic brick aqueduct more than a century old.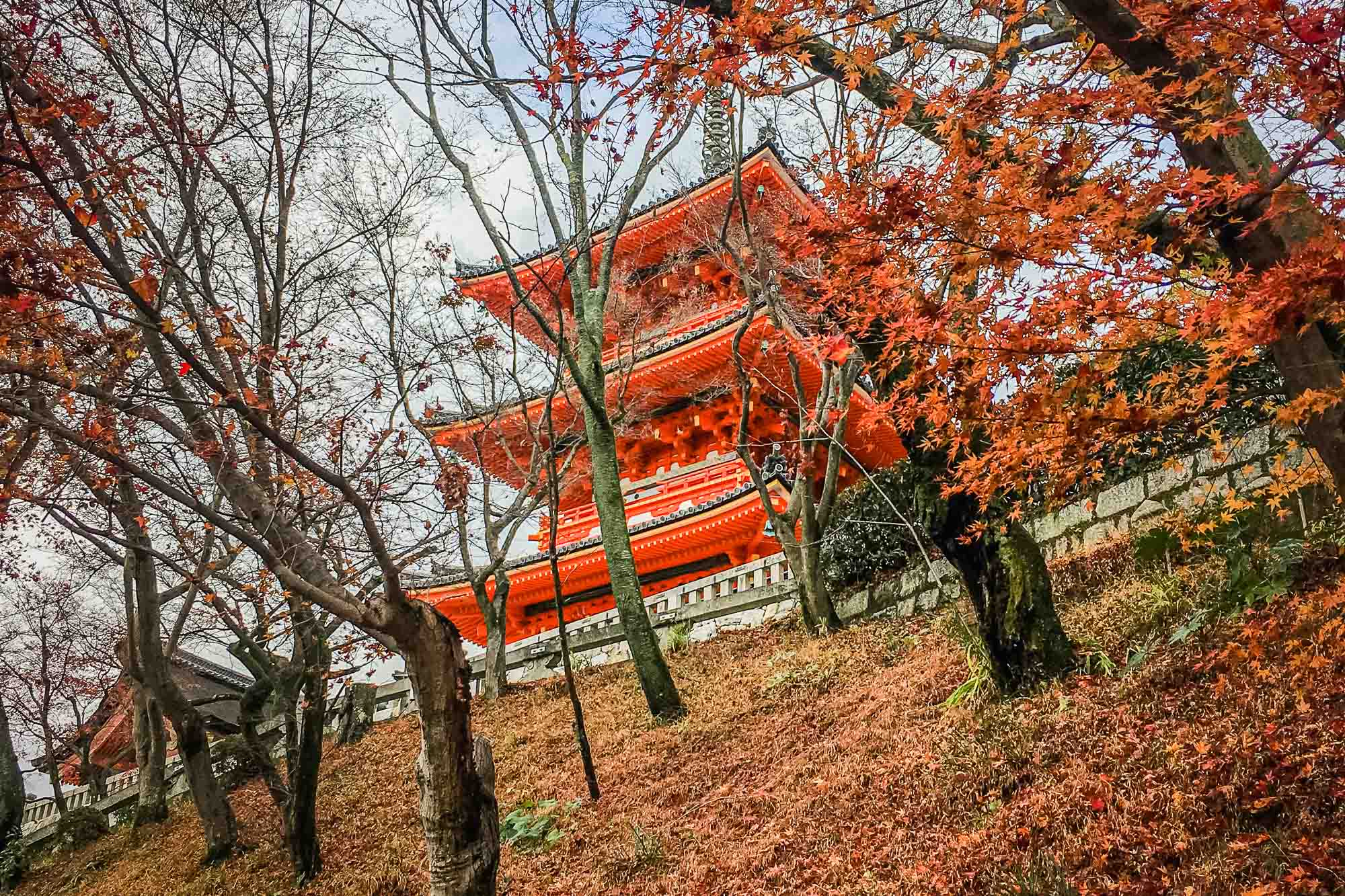 Higashiyama South and the Geisha Quarter
Just a mile south of Nanzenji is Gion, the largest and most famous geisha quarter. If you're walking between these two areas, we love a detour through Furukawacho Shopping Street, the covered arcade just next to Higashiyama subway station, which has more fun bars (like Beer Komachi for some great local craft beer) and restaurants as it develops and modernizes. 
When heading to Gion, keep in mind that the art and culture of geisha might be significantly different than you're imagining. These women are trained artists: either as dancers or as musicians, in addition to elaborate kimono wearing and entertaining. Access to them is also quite difficult, as only the very wealthy and formally introduced patrons are welcome to the tea houses they frequent. On top of this, a surge of ill-mannered tourists has made them even more hesitant to go out in public. 
Want to catch a glimpse? Hang out in a neighborhood cafe for long enough and it's not unlikely that you'll spot one walking down the street in the afternoon off-hours, or slipping in or out of a taxi in the evenings. (Curious to learn more about the reality of geisha? We recommend Mineko Iwasaki's book, Geisha of Gion.)
The neighborhood of Gion itself is certainly worth a visit: it's peppered with old buildings, and at night many are lit up with round paper lanterns decorated in red and white in Gion's special design: a ring of circles. Although not the city's main nightlife district these days (that's just across the river, on Kiyamachi and Kawaramachi streets), the neighborhood certainly has its share of restaurants, from the Michelin-starred Gyoza Hohei and top-tier beef restaurants such as Itoh Dining, to more hole-in-the-wall establishments. If you're wandering the neighborhood in the evening, be sure to check out Hanamikoji-dori, a beautifully-illuminated street lined with well-preserved houses, as well as the lesser-known Miyagawa-cho, a quieter but no-less-beautiful street a little farther south.
If you're not yet "templed out," you might also consider a visit in the afternoon, before your evening visit to Gion, to Kiyomizu-dera. This Buddhist temple and Unesco site is located east, just up the hill from Gion, heading towards the mountains. The temple is known for its namesake: pure water that is said to grant wishes and good health, as well as the main temple building's large wooden platform that's propped up 40 feet off the ground with a network of stilts. Fun fact: The entire building, including this stage, was built without using any nails.
---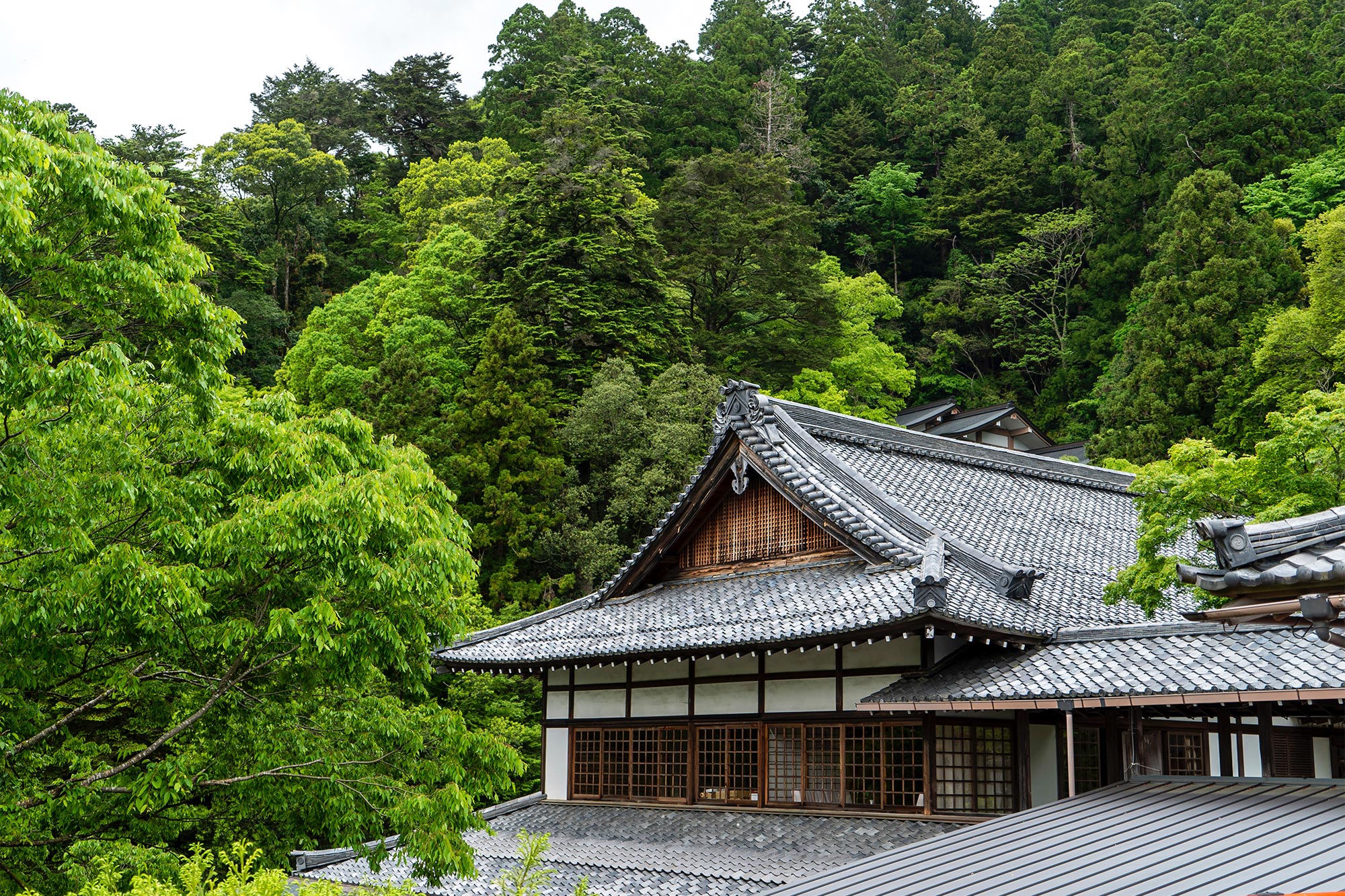 Forest Bathing
The word shirin-yoku, or forest bathing, has become a more common phrase as of late. There's certainly something to be said for immersing yourself in nature and quiet while enjoying the komorebi: the dappled light that filters through the trees. Kyoto has plenty of opportunities to delve into the serenity of its many mountains, all just short train rides away from the city center. While the list could go on, here are just a few of our top favorites.
Kurama-dera
Hop on the cute little Eizan train all the way to the end of the line (about a 30-minute ride), and you'll find yourself at Kurama-dera, a Buddhist temple built on a mountain. This is said to be the home of legendary tengu, or long-nosed creatures (they even have their own emoji: 👺). You can choose to hike up part way to the vermillion temple, enjoying its views, and then head back down to the tiny town. At the end of the village's one road, you'll find Kurama Onsen, a natural hot spring with an outdoor bath. Or, if you prefer, you can continue the hike up and then down to the other side of the mountain, which will take you to the penultimate train station, Kibuneguchi Station, where you can catch a train back to the city center.
Fushimi Inari Taisha
Perhaps the second most famous trek up a mountain in Japan (second to Mt. Fuji, of course) is Fushimi Inari Taisha. This large Shinto shrine is known the world over for its thousands of orange torii gates that wind their way up to the top of Inari Mountain. Unlike most shrines and temples, this one is always open, so if you're looking to snap the best photos, start early; trains start running (and the sun starts rising) at 5 am. Keep in mind that if you feel that you've seen enough, there's no need to climb all the way to the top.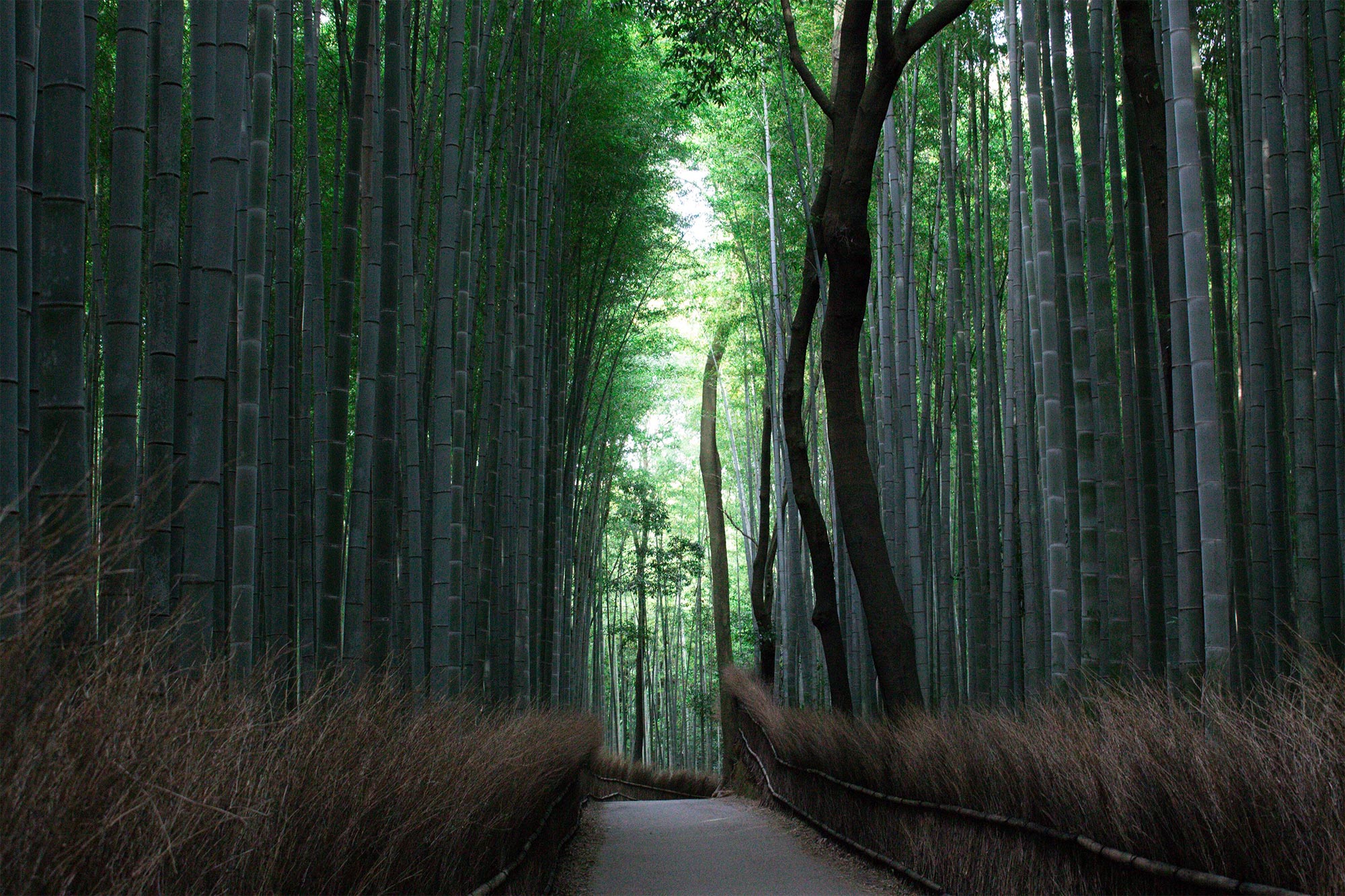 Mt. Hiei
Mount Hiei (pronounced hee-yay) is one of Kyoto's most sacred mountains. Choose to make the three-hour hike up to the summit or take a cable car; either way, as you climb, you can imagine the resident monks of a few centuries ago who were said to be trained warrior monks, and who were made to run marathons daily over a period of many days around the mountain. Their temple still exists today, although it is much smaller in modern times; Enryaku-ji is a temple complex dotted around the mountain top. Take a break at the mountain's rest area, where you can enjoy views of the city of Kyoto on one side, and Japan's largest lake, Lake Biwa, on the other, before continuing on to explore the temple's buildings, ranging from halls and shrines to pagodas.
Although smaller in size than the modern-day capital of Tokyo, Japan's old capital is filled with endless explorations. We recommend giving yourself a minimum of three days to cover its most famous areas and sites, from the golden pavilion to the silver one, the geisha district to the Arashiyama Bamboo Grove. However, its slightly lesser-known temples, neighborhoods, and forests (not to mention all the amazing matcha, kaiseki, and other tasty food) are worth extra days in your trip to explore as well.