Travel is back, but there are some new trends
The onset of COVID-19 threw us all for a loop in 2020 and no doubt interrupted a lot of our travel plans.  While we tried to find adventures in our own backyard, travel via book or movie, or just kept travel planning to keep ourselves inspired, we're all ready to get back to our regularly scheduled travels. And while coronavirus strains still exist, we're navigating how to live with it in the normal flow of life, and with it, traveling again. But how does this new world change travel? Read on to see some of the key trends for 2022 we found in our survey of Portico members.
The # of trips is only slightly down in 2022
We asked our surveyees how much they typically travel versus what they're planning for 2022. 43% are traveling less in 2022, most with 1-2 fewer trips. However, 42% are back to normal and traveling about the same. 16% are adventurous souls who are traveling more. Pro tip: If you can travel, you'll get the benefit of fewer crowds while helping to support local areas that have been seriously hurt by the lack of tourism in the past two years.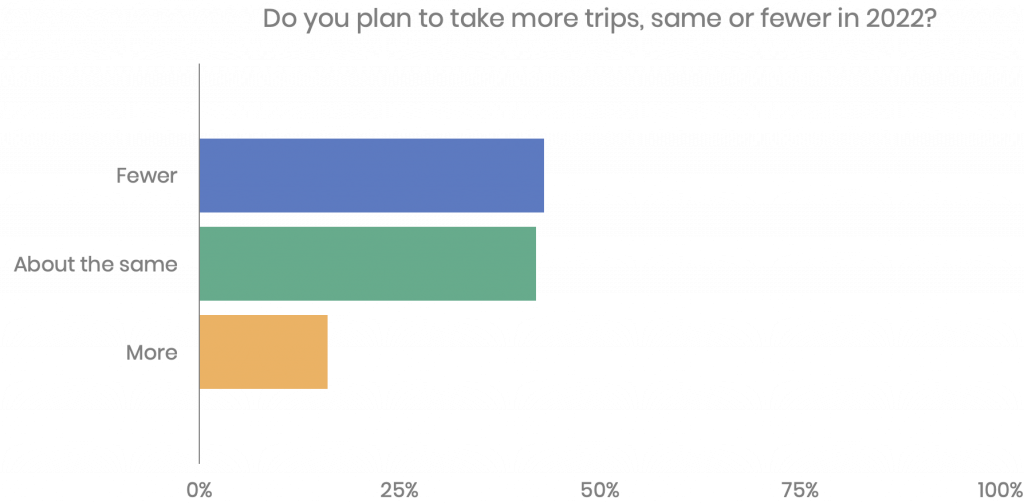 People are traveling a lot of days and spending the same budget
The ability to work remotely has dramatically changed many of our lives. Instead of visiting somewhere for a weekend, you might choose to stay a full week (or two) and work a few days as well. 44% of our respondents stated they will travel 20 days or more in 2022. Considering many people only have 2-3 weeks of vacation, that's a surprisingly high number! We love to hear it because the longer you stay in a place, the more you can really get a sense of who the people are and find more interesting, tucked away spots to patronize.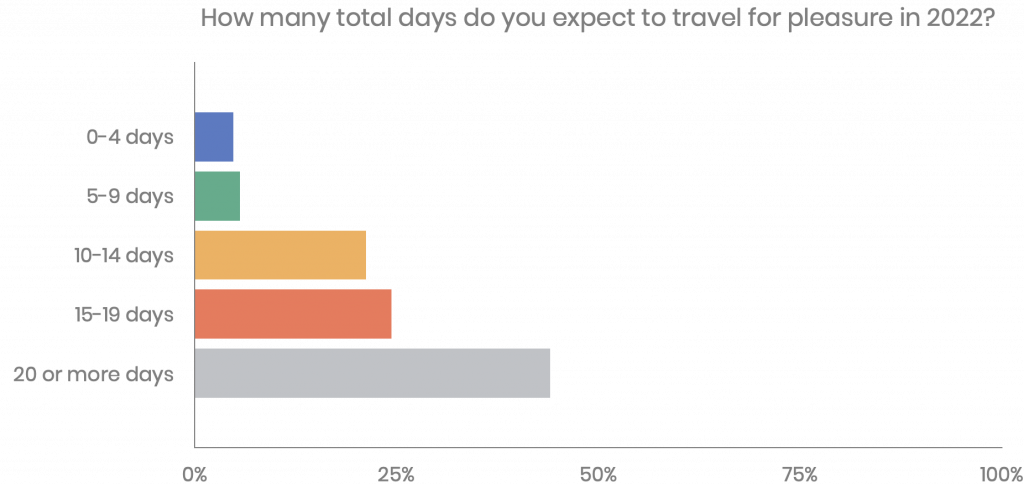 Solo travel is a great option
Want to take a trip but friends are still gun shy about traveling? Time for a solo trip! And it sounds like a lot of people agree. 30% said they plan to take at least one solo trip in 2022. Solo trips are not only a great way to plan the exact itinerary you want, but it opens you up to learning more about yourself, along with the world around you.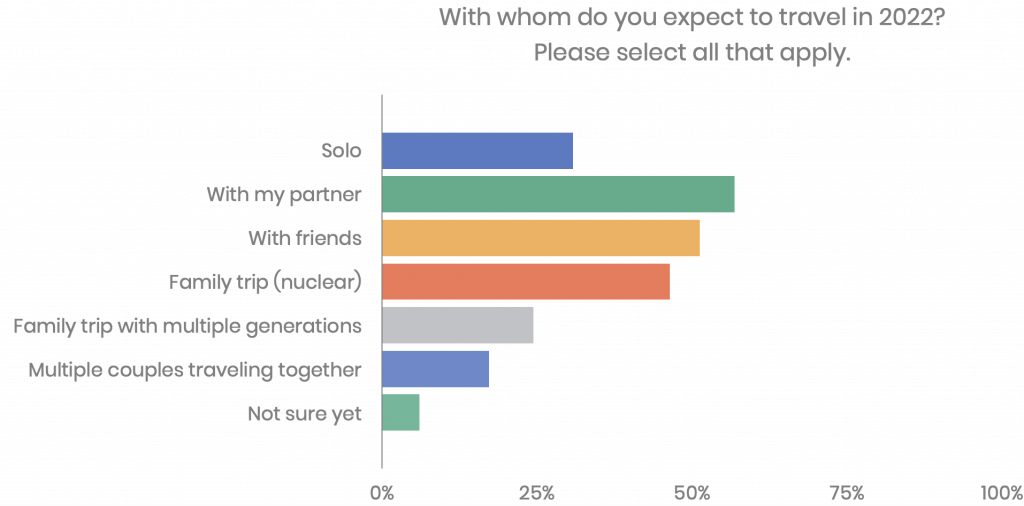 Trips in 2022 are closer to home, but in 2023, the world is your oyster
The majority of our survey respondents were based in the US or UK. The US group is predominantly traveling within North America and Europe in 2022. But for 2023, the percentage traveling to North America drops significantly, while South America, Asia, Australia, and New Zealand skyrocket as destinations. For the UK group, they're mostly in Europe this year. Then in 2023, that drops in half as they scatter around the world.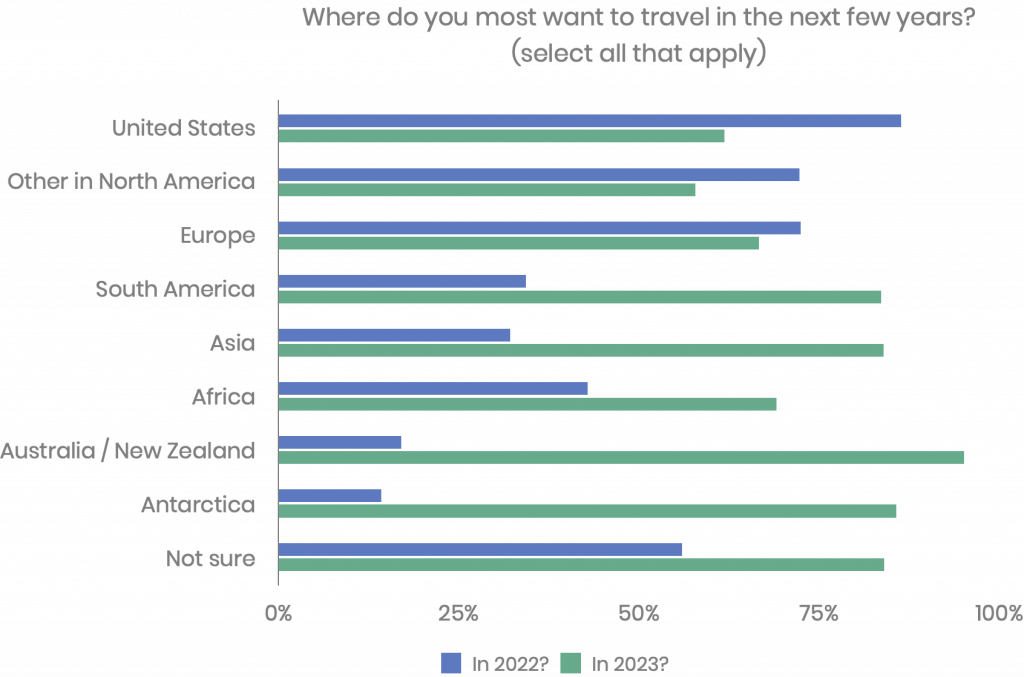 So why are people so eager to travel?
With the #1 reason "to experience something new" and the #2 reason "adventure", it's clear that we're all ready to explore the world again. We want to re-connect (reason #3) and enjoy new aspects of life. As part of that, respondents very much want to experience local culture, life, and history. When asked what they want to do on vacation, 87% want to eat in small, local spots and 83% want to get lost and wander the city streets.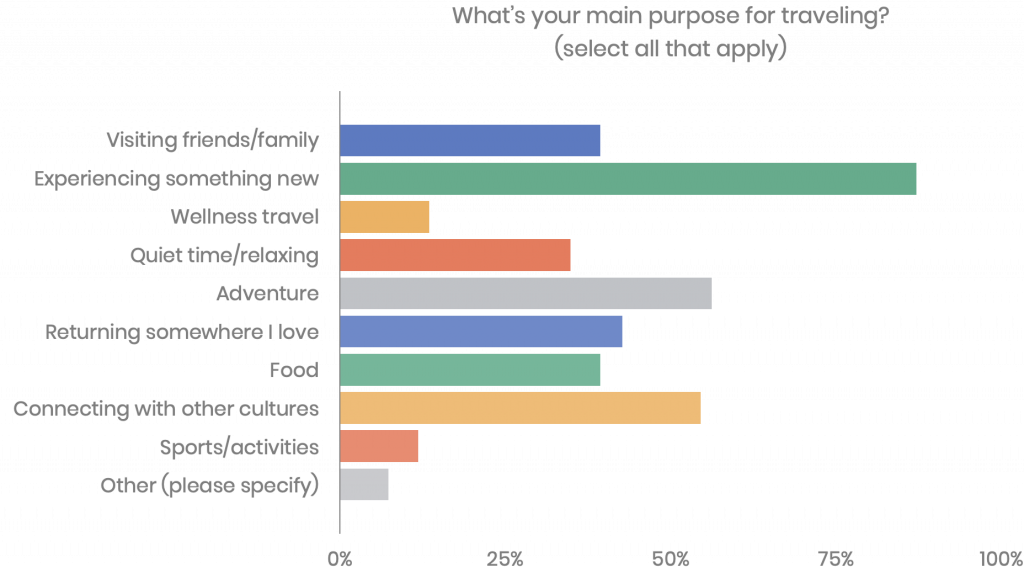 Where are people dreaming about traveling this year?
With over 180 countries, it's impossible to see the entire world. The travel dreams of our Portico community are as diverse as the world. From boating in the Mediterranean to language schools to road trips to sunny beaches to gorilla trekking, there's a breadth of desired activities. As for destinations, it's a long list…perhaps one of them resonates with you?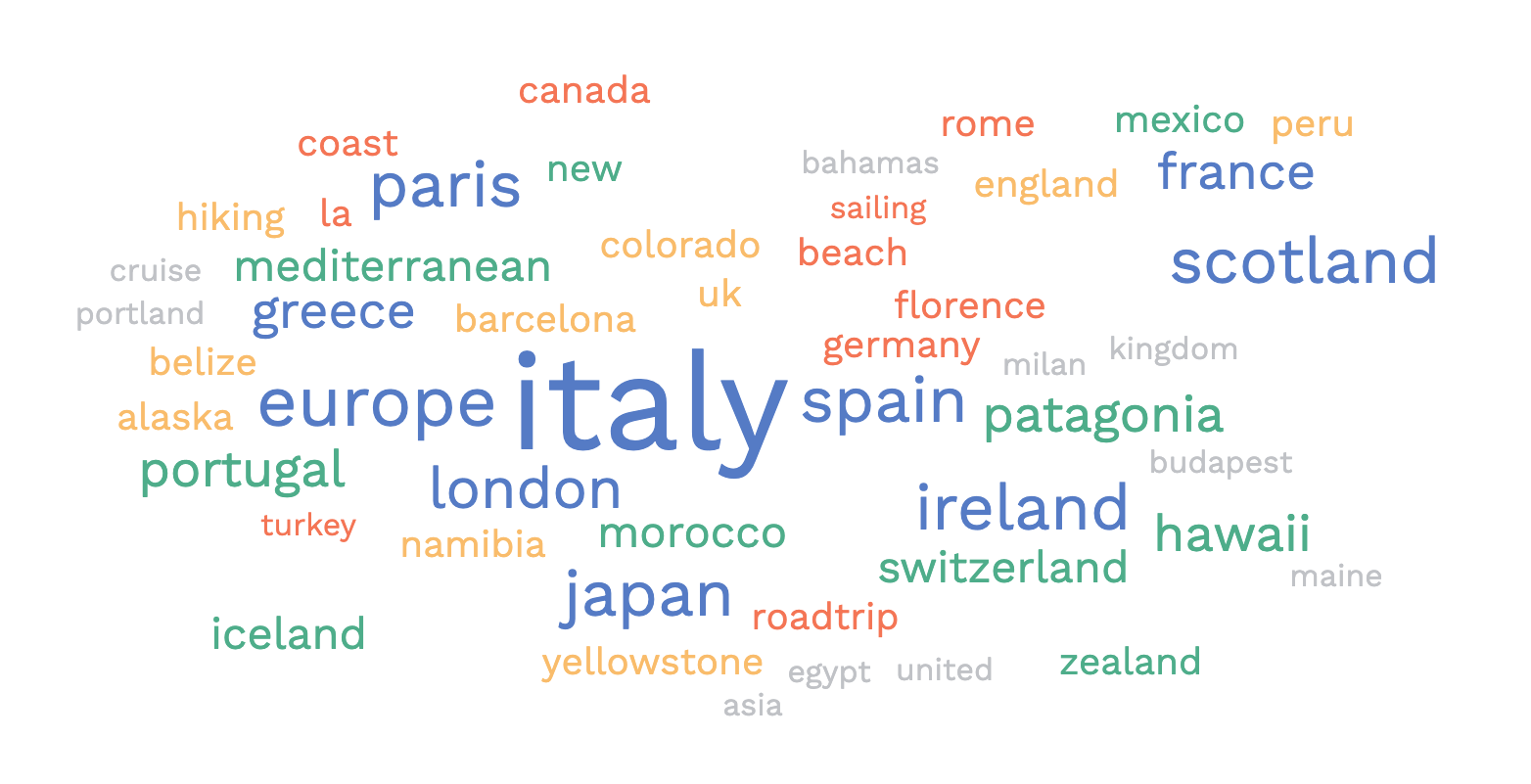 What are the top destinations for 2022? Here are pictures…can you identify them?

At the top of the list is London, followed by Italy, Spain and France (more specifically Paris).
However you decide to travel or where you'll go, we're just happy to hear you're going! We'll see you out there.