Travel stories to inspire your next trip (or travel there virtually now)
Our founder Jacqueline looks back on her trip to Todos Santos fondly. Read her story and get inspired by our latest "travel diary." 
Surf, sand, and cocktails in Mexico…what else do you need for a perfect getaway?
Sometimes I want more. I want a place off the beaten path that has a fun local vibe, yet is on the cusp of change so I can find great art, food, and cocktails. For me, that's the goal when I travel. It's finding a gem in a haystack. And right now, it all exists in Todos Santos on the Baja peninsula.
A few years ago, friends and I spent a long weekend exploring Todos Santos. Home base was Rancho Pescadero, a hotel just south of Todos Santos. The afternoon we arrived, we quickly settled in poolside with margaritas and delicious guacamole, a perfect Mexican bienvenidos while we waited for our room. A while later, we wandered down to the beach and encountered a beautiful sandy stretch so far we couldn't see the ocean. We ventured closer until we stumbled upon the steep drop-off that led to clear, blue ocean water. The topography was breathtaking. As we stood in the ocean and looked back towards the hotel, all we saw was a hill of sand. It was basically a private beach. These first few hours set the tone for our weekend – one full of relaxation, calming waters and good fun with friends.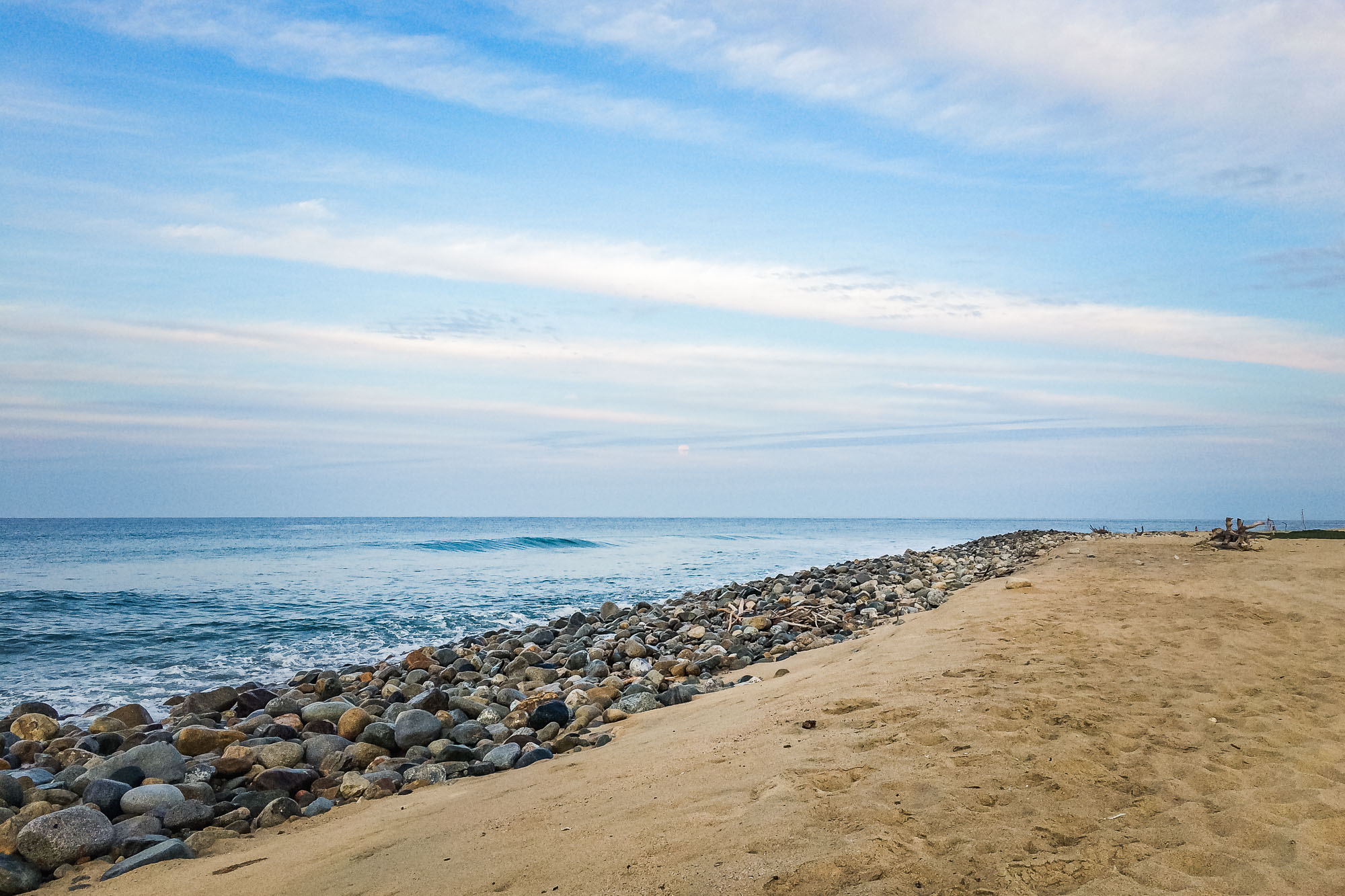 The next morning, I woke early and ventured out for a walk on the beach. To my surprise, a gorgeous full moon was rising over the Pacific Ocean–definitely a new experience for an east-coaster! As I wandered down the beach past the nearby pueblo, I eventually stumbled upon San Pedrito beach, a local surf spot. A couple people had camped out on the beach and were already in the water. Given the break and the rocks, it was definitely a spot for the experts!
I fell in love with surfing a few years ago (thank you Las Olas!), so finding a place to surf was a must. We had read about two good surf breaks near Todos Santos. Cerritos beach was only 10 minutes away, so we decided to give it a try. Since we were relative newbies, we opted for a surf lesson to refresh our memories and learn the surf break. Enter the awesome crew from Mario Surf School. It was so easy and fun that we kept returning to Mario's crew and Cerritos. After surfing, we always stopped by Baja Beans for a caffeine fix. It's the local spot to grab an espresso and pastry or my favorite, the biscuit sandwich, piled with egg and avocado on a cheddar biscuit (our friend Ondine Cohane wrote about it years ago for CN Traveler). With the relaxed local pace, people linger at the outdoor tables under the palm trees, enjoying a morning break. We often encountered two guys we had met at our hotel – who have vacationed in Todos Santos the last 20 years with the same surf/espresso routine! Pro tip: From them, we discovered that the surf in Todos Santos is best in the fall…in the spring you need to go to the gulf side of the Baja peninsula.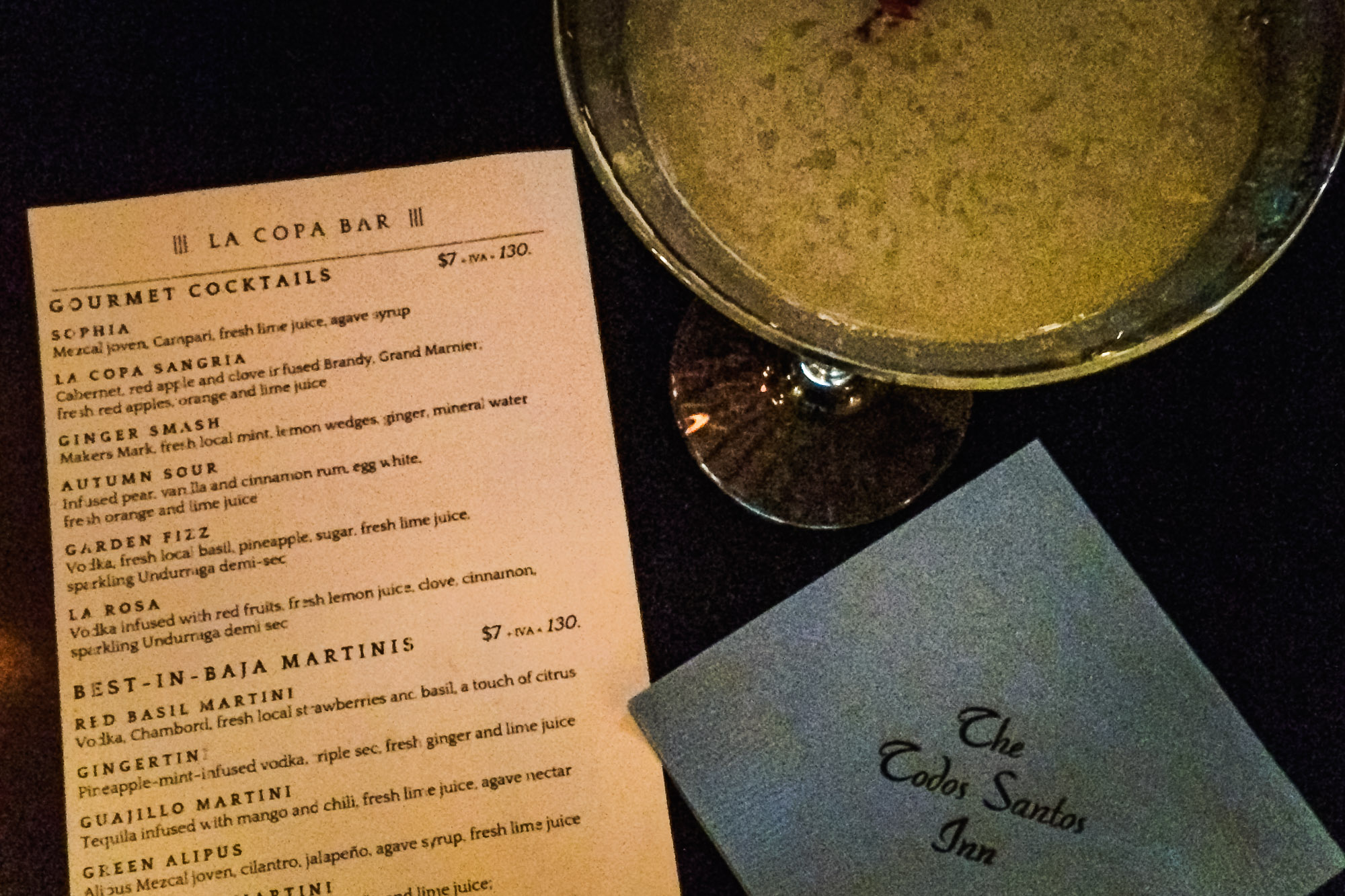 In town, we loved wandering the streets. In the evenings our habitual first stop was the Todos Santos Inn, where we savored their delicious, creative cocktails. My favorite was the guajillo martini, composed of tequila infused with mango and chili, fresh lime juice and agave nectar. The inn was originally built in the 1870s as a sugar baron's estate. It has been beautifully restored and creates a magical charm with its vaulted wood beam ceilings, intimate rooms and cozy courtyards with luscious vegetation.
Art infused downtown, be it in galleries or in cafes and boutiques. While grabbing a delicious green juice at Café Indigo on Calle Juarez, we discovered the space also housed Galería Índigo. We met the owner, Frieda Telemans, and heard about several of the local artists whose work she was displaying. Frieda's original passion is the gallery, the café was simply a fun side business for her. I loved seeing her entrepreneurial spirit in both. Sadly Frieda's gallery and cafe are now closed but there are many other beautiful galleries in town.
A few blocks away, as we walked by Café Todos Santos, we recognized the art on the wall as one of the artists from Frieda's gallery. We popped in and discovered an adorable café. The walls were filled with paintings from local artists. And through an archway and tiny kitchen, there was a delightful patio for lunch. The food being prepped in the kitchen looked delicious, and the café is definitely on my list to visit next time.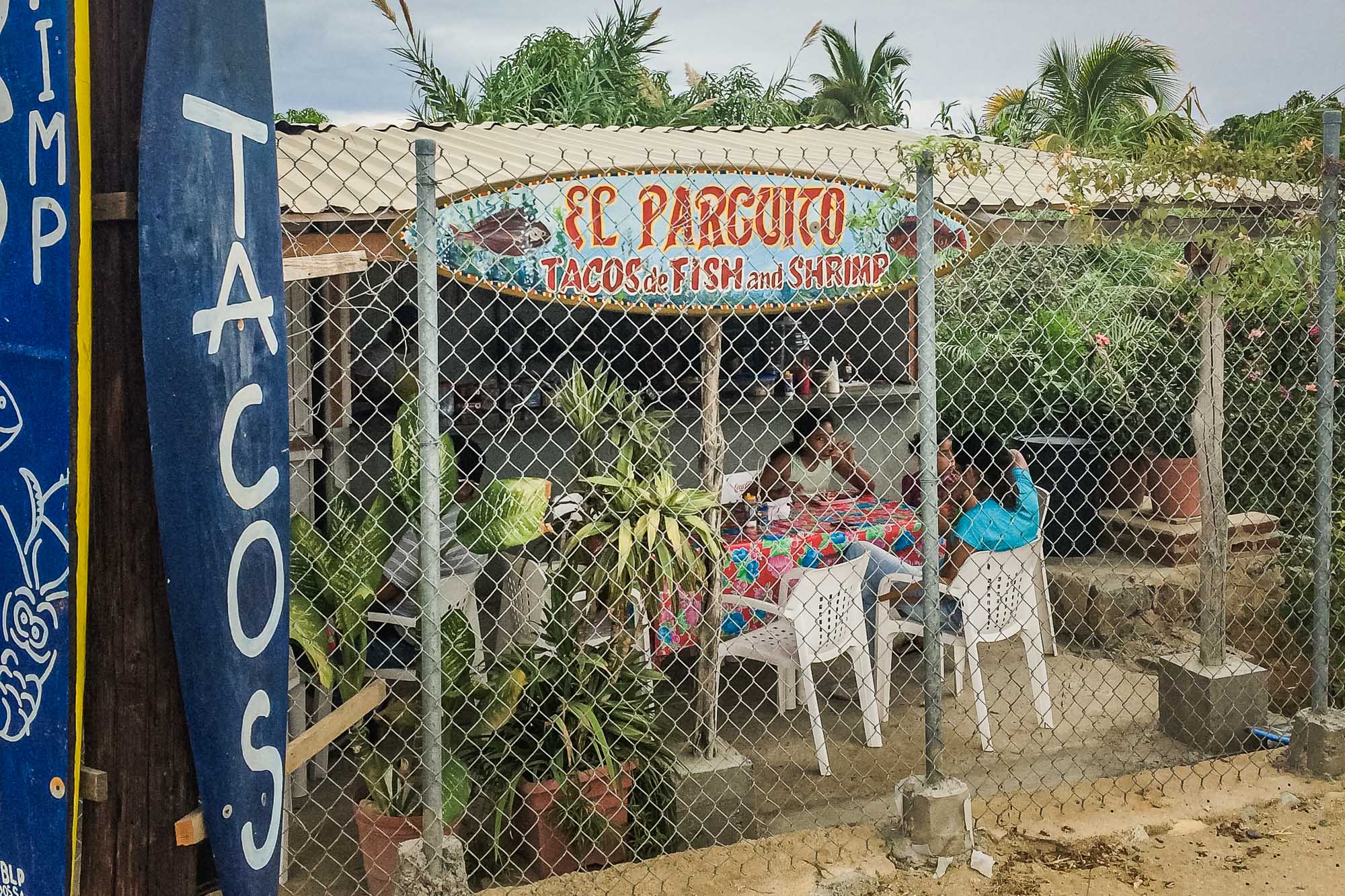 On the outskirts of town, we found dollar tacos at El Parguito, eaten on saran wrap covered plates and flowery plastic tablecloths. We watched Benny and Celina (mother and daughter) cook our fish and then we layered on the pickled onions, salsa, and chilies. The tacos were so good we couldn't stop at just one! In chatting with Benny and Celina, we learned that the local community is very tight knit. It was inspiring to hear how each summer they come together to create camps for the local children – surf lessons by Mario, art class by another, soccer, etc. – any way to entertain the kids while their parents were at work.
On our last day, I ventured out for yet another early morning beach walk. A handful of surfers were at the point on San Pedrito, and the chill quickly disappeared as the sun started to rise. On my way back I was delighted to find the infamous Griselda. Griselda lived in the little pueblo by our hotel, and she had an enclosed area on the beach to protect the turtle eggs while they hatched. She works for Ecologico y Tortuguero de Pescadero, but also happened to be the aunt of someone at Rancho Pescadero. When I found her, I was delighted by a bucketful of tiny turtles, so small they fit in the palm of your hand. We walked to the water's edge to release the turtles and watched them move around circles and tumble into the gentle waves until they finally found their sense of direction and swam out to sea.
There is a definitive beauty in Todos Santos…in the nature of the people, the blend of the upscale and the normal life, in the appreciation of good things in life, regardless of how fancy they are. I fear it is fragile. With a new highway and lots of construction in town, things are bound to change. Between the excellent surfing and the art festival in February, more and more people will learn about Todos Santos and its beauty. If you wait too long to visit it, you'll risk missing the local vibe.