Stories from one of our members to inspire your next trip
We spoke to See, one of our amazing Portico members, about her many trips to Cuba. Read her story and get inspired by her "travel diary."
How many times have you been to Cuba?
I've been to Cuba four times.
What did you do on your first trip to Cuba?
The first time I went with my husband, and we traveled through all but one province, stopping at several towns each day. We started in Havana and Vinales, taking in all the touristy sites. Then we drove east through Cienfuegos, Trinidad de Cuba, Sancti Spiritus, Camaguey, Santiago de Cuba, Bayamo, Sierra Maestra, Baracoa and Gibara. We chatted with locals in cafes. We enjoyed hikes through national parks and learning more about history, politics and life in general from wise, life-hardened guides. Additionally, on that trip, we discovered a little island that became the destination for our next three trips to Cuba: Isla de la Juventud.
Oooh, Isla de la Juventud sounds interesting. Tell us more. What's special about it?
Isla de la Juventud is a small island to the south of mainland Cuba. The north side of the island includes the capital Nueva Gerona, and the southern part of the island is generally uninhabited, aside from a few rural villages. We love Isla de la Juventud because it's not so touristy and very budget-friendly, especially for a place so beautiful and quaint. We also keep going back because people are so friendly and go out of their way to make sure you have a good time. We've made some great friends there.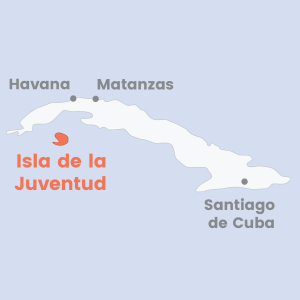 How do you get to Isla de la Juventud?
Take a domestic flight from Havana, about 30 minutes flying time. You could also take a ferry, but the ferry is an all-day affair and costs about the same as the flight. Either way, there are often delays so plan to stay for more than a few days to get the most out of your time.
How did you explore the island?
Nueva Gerona reminds me of a small New England town, with its nicely maintained Main Street filled with retail shops, stores, restaurants and a museum. It's where you go to people watch or to run into friends. Many of the historical sites, hiking spots and beaches around the main town of Nueva Gerona are within biking distance or a short taxi-ride.
It's a bit more challenging to get to the southern part of the island with its pristine, sandy beaches–they are truly breathtaking and serene. It's comprised of national parks and regulated by the military which is a huge part of why the area is untouched and undeveloped. The beaches are incredibly peaceful, with only a handful of people scattered along the sand. The first few times we went through a tour company, called Ecotur, who helps get passes through the military checkpoint. All the tour guides, including Mikal, Monica, Yuri, and Frank, were so friendly and insightful. They'll also take you to a crocodile breeding farm, a lighthouse and the little fishing village of Cocodrilo. Our first visit we took a standard tour, after that we designed our own tours with Ecotur.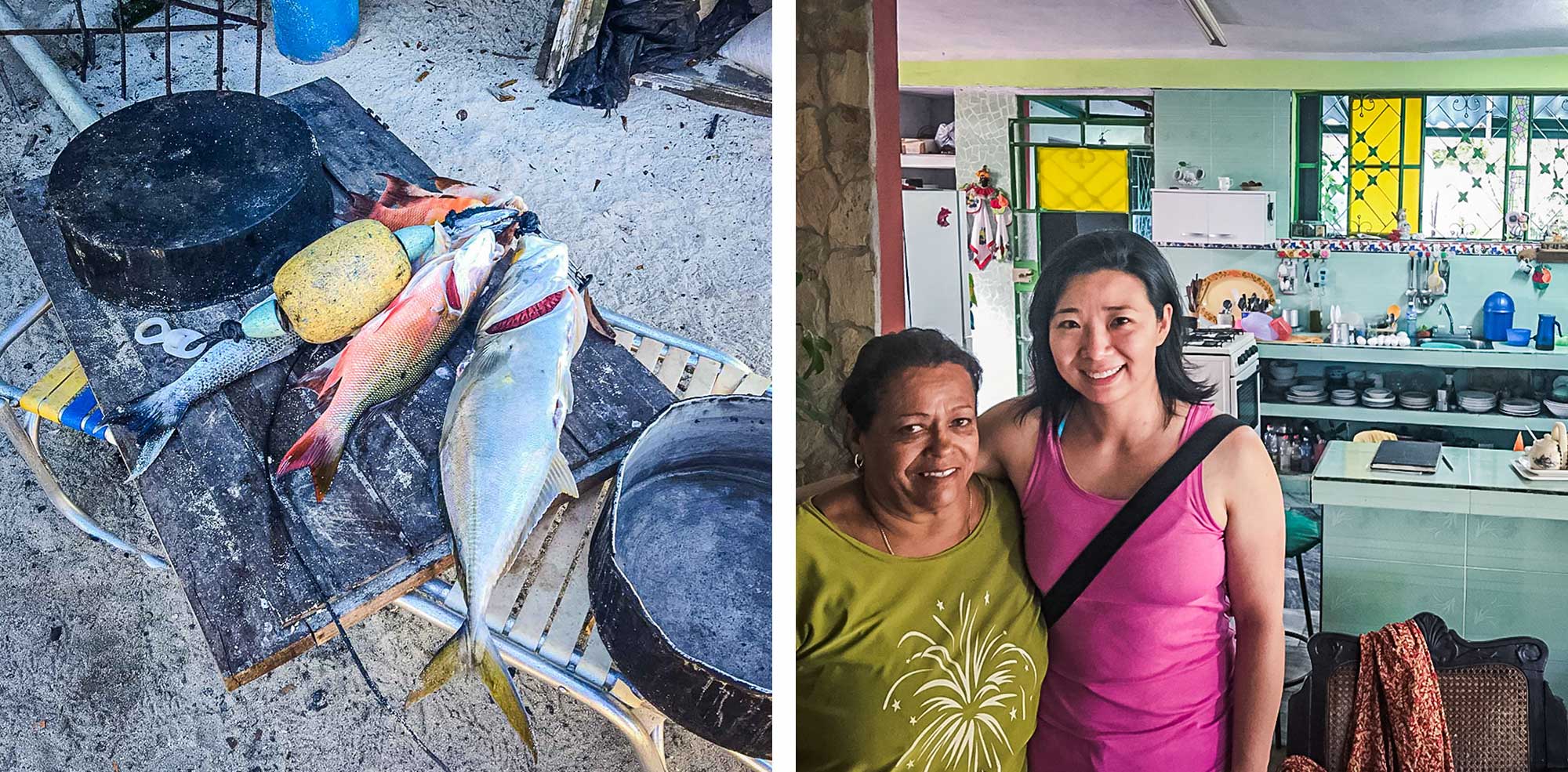 Where did you stay on Isla de Juventud? What did you eat?
In Nueva Gerona we often stay at La Isla, which is one of the best places to stay on the island (the best way to book is to contact the owner directly on Facebook). Everyone knows the owner, Chino. Strike up a conversation with him and he'll take you to where the beautiful parrots hang out. There's a restaurant upstairs where you can get a huge freshly-caught, grilled fish meal for $5. All the local chefs on the island take pride in their food so you can't go wrong wandering and letting your nose be your guide.
Villa Nery is also one of my favorites because we've become good friends with Nery, the owner. She is one of the warmest and friendliest people in town — everyone knows her too! She also will go all around town on her scooter to procure the best fruit, bread, and dessert to assemble an amazing meal for you.
What are some of your favorite experiences there?
On our second trip, we worked with Ecotur to arrange a custom tour to an amazing secluded snorkel area. We had to walk over a mile on the beach carrying our gear. The coral reefs in Cuba are some of the best in the Caribbean because they don't use chemical fertilizer. We ran into some free-diving fisherman who went snorkeling with us. Sitting on the beach afterwards, we talked about how they were tired of eating fish because they could only make a few recipes due to the limited availability of spices. They led us to the fascinating mangrove forest on the other side of the beach and told us crocodiles who live there will sometimes venture onto the beach in search of food. Luckily for us, the crocodiles stayed hidden that day.
Ecotur had arranged for us to stay overnight in a small house in Cocodrilo. The village is quite rustic, and it has no public internet and only one store, by the bus stop. The store owner plays her radio and people dance outside in the street, so it's a real gathering spot. We bumped into her in Nueva Gerona one day and she said hello to us — as I said, people are very friendly and also, there aren't many tourists so we're easily recognizable.
What's an inside scoop for your Cuba travels?
We learned from hanging out with Nene, our host and new friend in Cocodrilo, that another way to get passes to enter the south side of the island was through a resident of the village. So next time we went, we emailed Nene and he got passes for us. This time, we took a bus for about 25 cents instead of a $50 taxi. He took us bird watching and on a snorkel trip. We compared seafood dishes popular in Cuban, American and Chinese cuisine. One big surprise was sea cucumber — not something they even considered eating in Cuba, but very popular in Chinese cuisine. It was cool that we were still able to communicate using broken language, gesturing and pointing at a book. We all had a blast.
Check out See's Portico Stories on Cuba for all her recommendations: