The Big Village
Small enough to walk but packed with beautiful architecture to admire, a thriving art scene and bustling nightlife, it's no wonder Prague has become a popular travel destination. Enjoy gorgeous boat rides on the river in the summer and festive Christmas markets during the winter in this fairytale-looking city.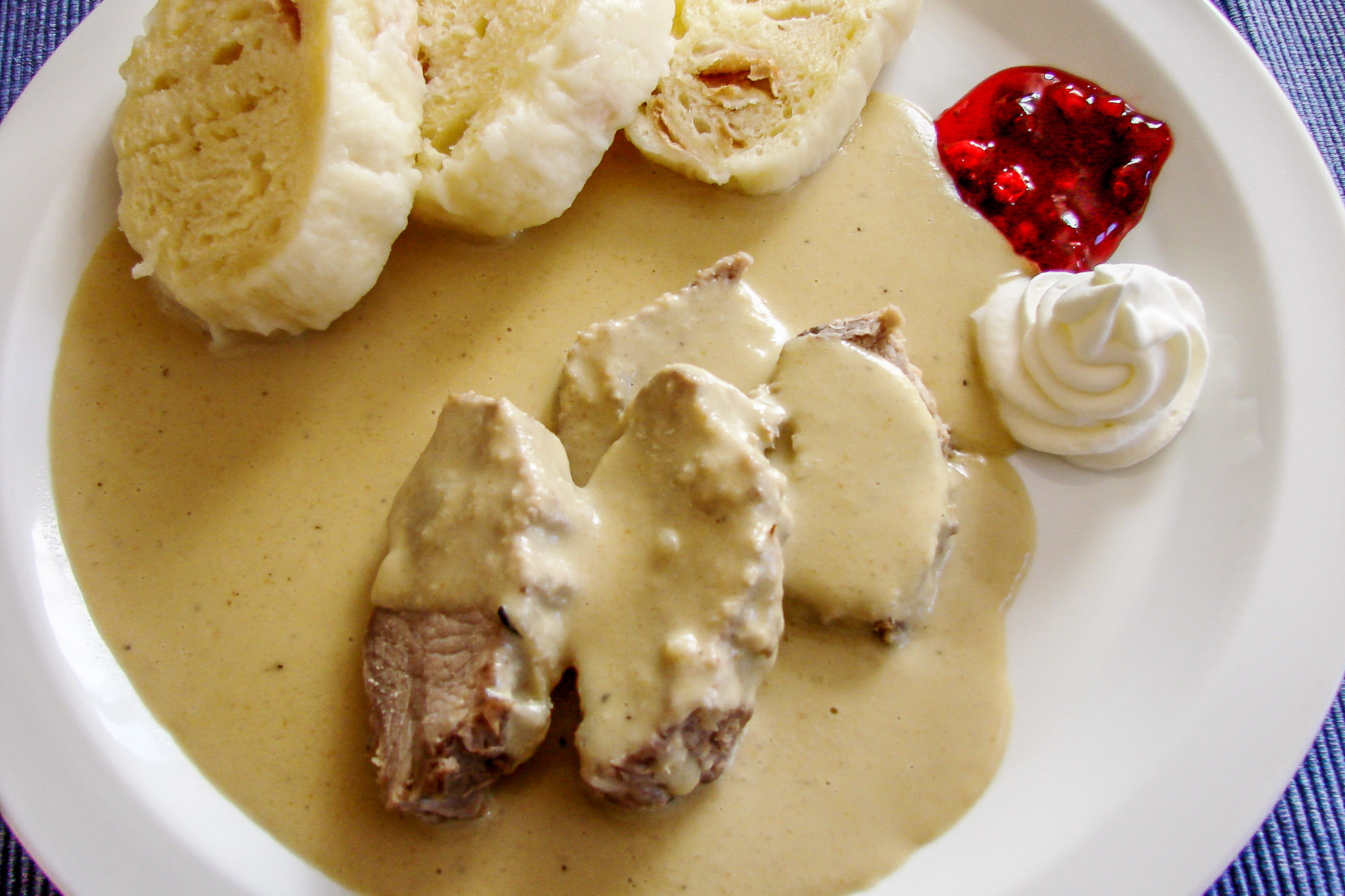 Food 
There's a lot of meat, cheese, and pastry in Czech food and it's so heartily delicious. Here are a few of the typical Czech dishes: 
Svíčková (Svee-chov-kaa): One of the most popular dishes, it's braised sirloin steak served with vegetables (traditionally carrots, parsley root, celeriac and onion ) cooked with black pepper, allspice, bay leaf and thyme and cream sauce. 
Roasted Duck: Served with cabbage and bread dumplings, it's a must-try–the duck is incredible. 
Smažený Sýr or Smazak (Smah-zak): Like one big mozzarella stick, it's a big block of fried cheese. 
Moravský Vrabec (Mor-ahv-ski Vra-bec): The translation is "Moravian Sparrow," but don't worry–it's actually pork, bread dumplings, and cabbage. Super filling and best for dinner as you won't want to move around much after you're finished.
Rakvička (Rack-vich-ka): A traditional Czech pastry that translates as "coffin," it's a long hollow pastry topped with whipped cream. Great with coffee.  
To try some typical Czech food with a modern flare, try Vinohradský Parlament (Protip: Their season specialties are excellent). V Kolkovně does Czech food very well and there are a couple of locations. If you want to eat late-night, U Sadu is an old-school hospoda (pub) that also has great craft beer.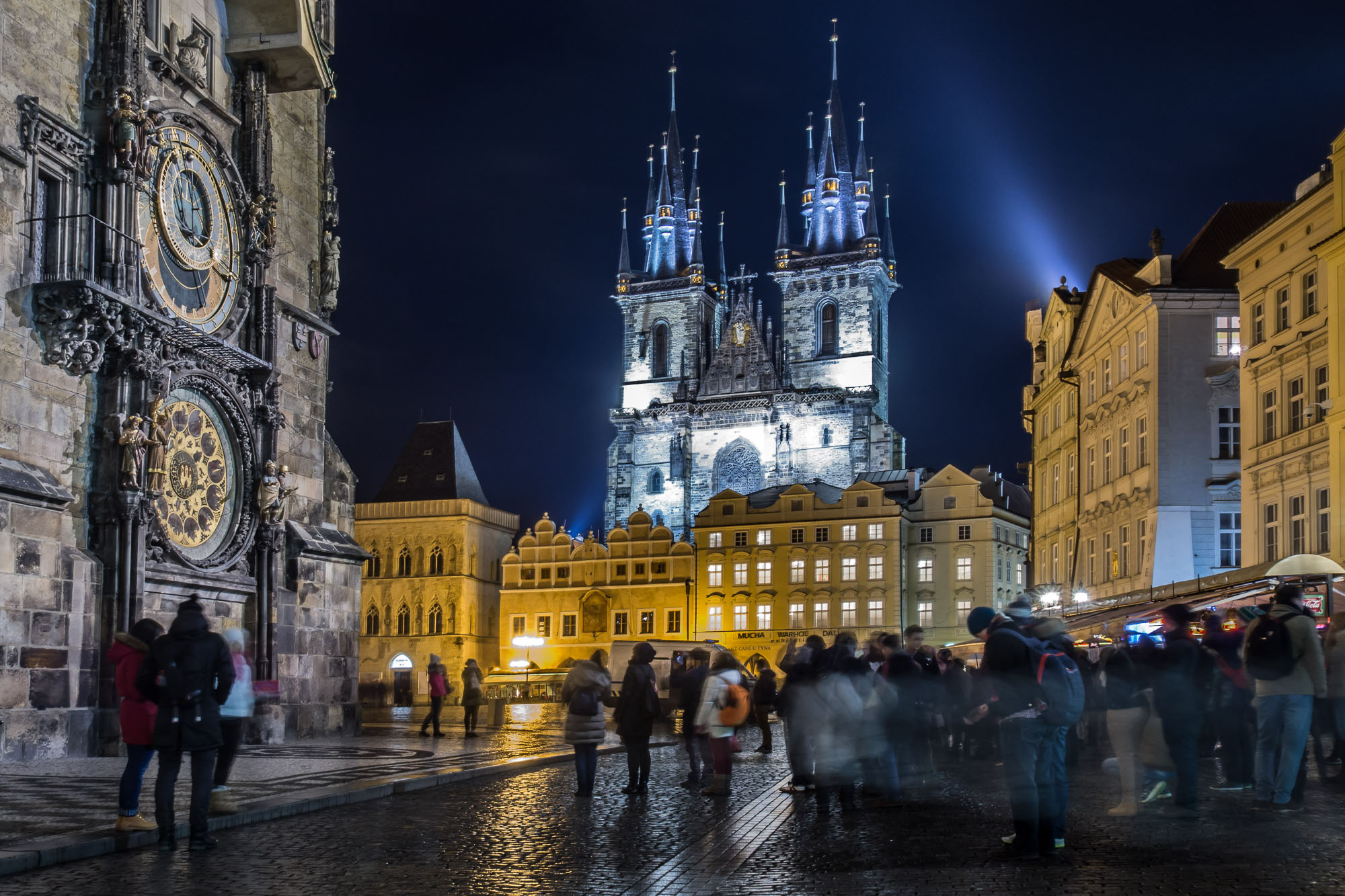 Old Town Square + Jewish Quarter
The Old Town Square and Jewish Quarter are the oldest parts of the city and right next to each other (about a 5-minute walk). You'll find plenty of history and architectural eyefuls in this part of town. The Old Town Square is ideal to walk around in the mornings before it gets too crowded and in the evenings when the church is lit up. You'll also find here the astronomical clock, the oldest running clock in the world, installed in 1410. For all you Arts Aficionados, check out the Mucha Museum, dedicated to the works of Czech and acclaimed art nouveau artist Alphonse Mucha. You can also visit the National Gallery in this area, which has a massive collection of Czech artwork. Walk on over to the Jewish Quarter (or Josefov) where legend has it the last golem resided (Protip: Sunday is a great day to explore to ensure more places are open than there would be Saturday). The largest Jewish ghetto at one point in the world, check out its impressive cemetery, admire the synagogues, stop at the museum, and look for the Franz Kafka Monument. At the end of the day, stop for a cocktail at Black Angel's Bar (opens at 5pm), a classic cocktail joint and rated one of the best cocktail bars in Europe.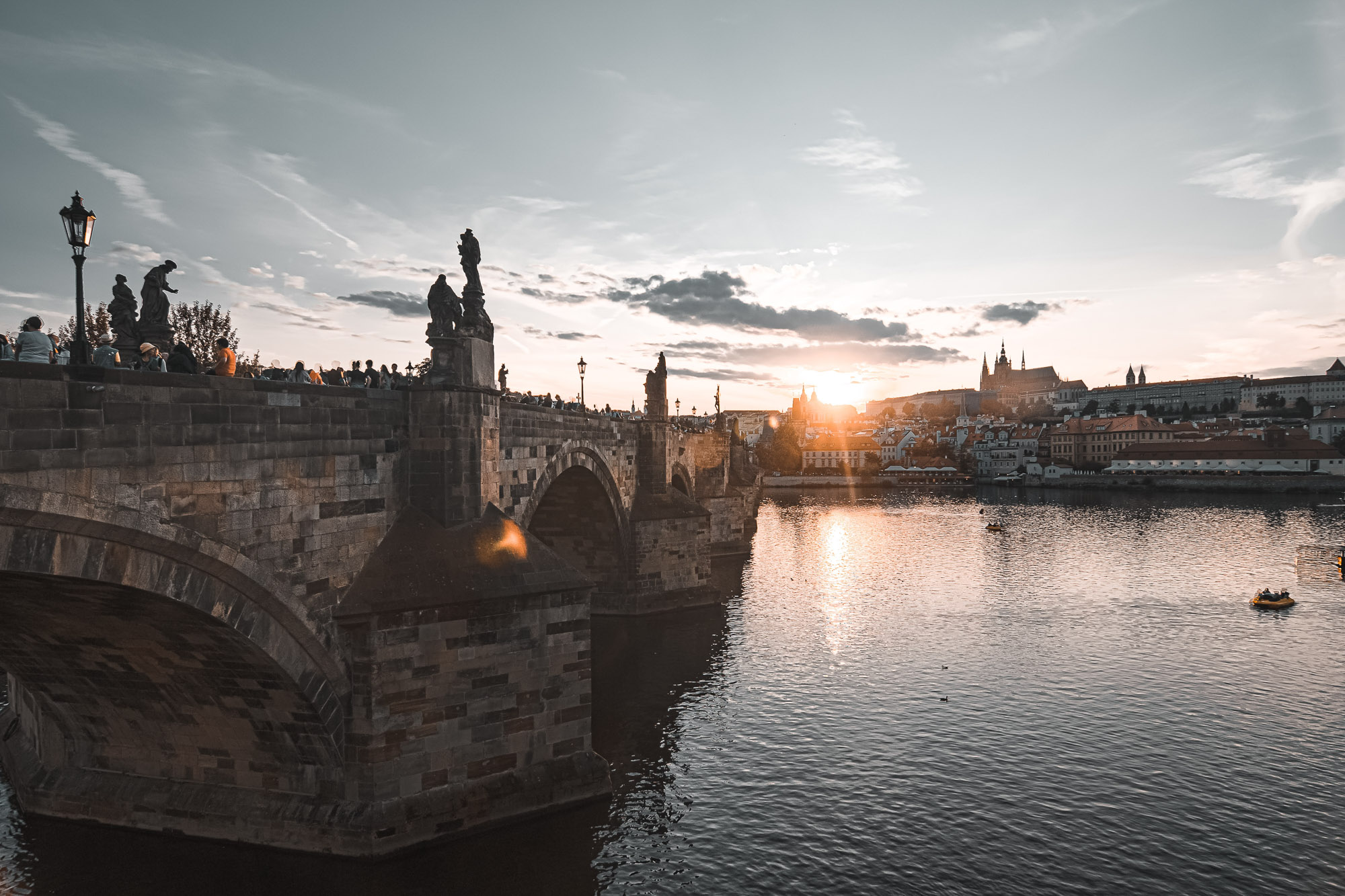 Charles Bridge, Prague Castle, and Petrin Hill
The entrance to Old Town, Charles Bridge was the only bridge connecting both sides of the Vltava River for centuries. If you're an early riser, it's beautiful at sunrise and you'll be mostly alone to admire the statues and water. Afterward, head down to Petrin Hill. You can take the funicular to the top for panoramic city views, or you can travel like a local and stop midway to find the shack on the side of the hill with black currant wine (and there's still great views). Go back down and head on over to the Lennon Wall, in tribute to John Lennon, and is filled with rotating, heartfelt graffiti. Add your own favorite Beatle's lyric to the wall before traveling on. Stop at the 18th century Baroque Garden at Vrtbovská Zahrada before you continue on your way to Prague Castle. Next door, St. Vitus Cathedral's gothic architecture is breathtaking and you can walk up the bell tower. Walk over to Letna Park to mingle with locals at the beer garden under the chestnut trees and enjoy the stunning views of Old Town at sunset.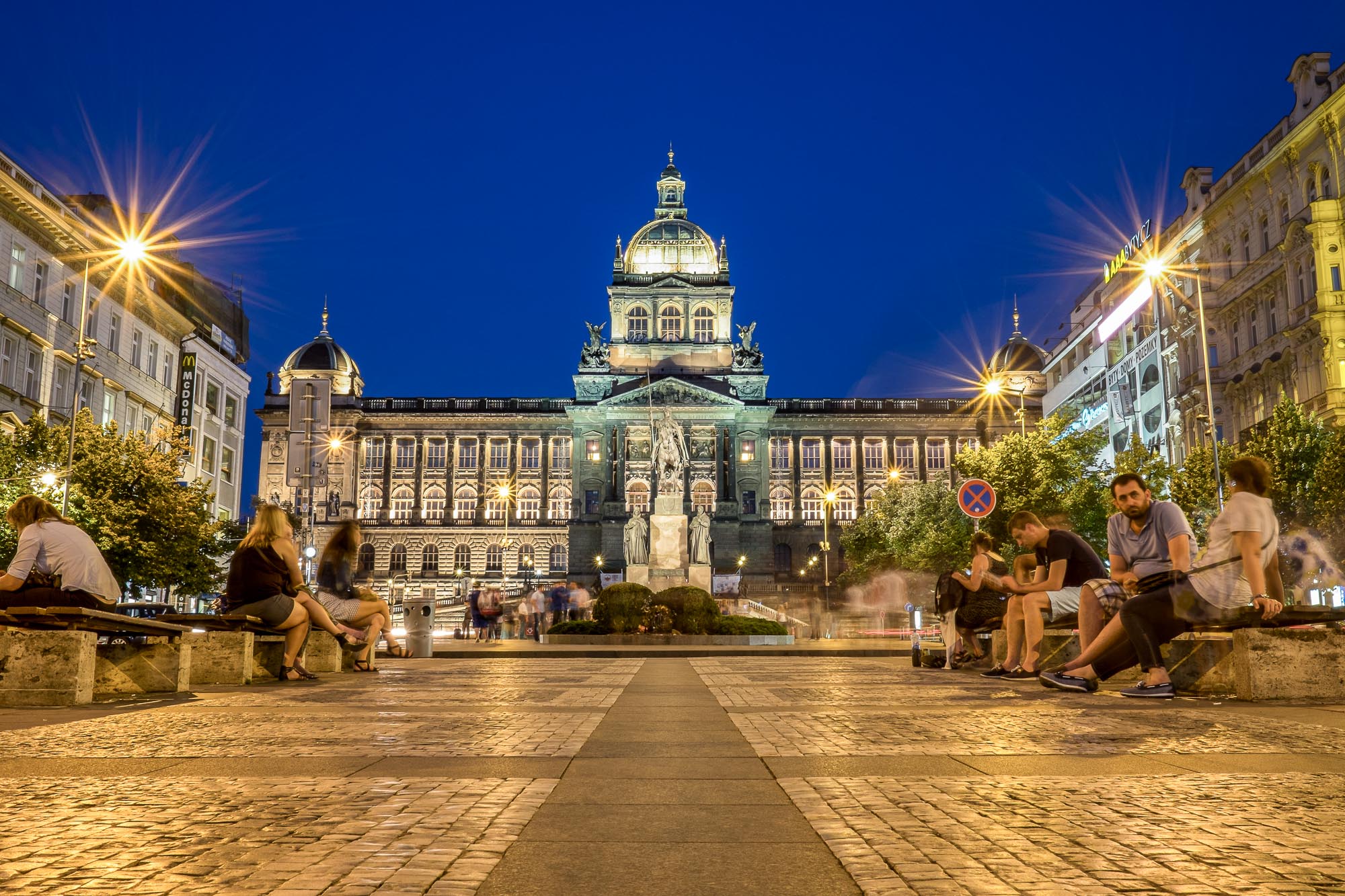 Wenceslas Square
One of the main areas of the city and a bustling square for both work and play, take a stroll from one end to the other of Wenceslas Square to see beautiful buildings and do some people watching. Enjoy a coffee and Rakvička cake at the nearby Cafe Louvre if you want to hang out at the same place as Einstein once frequented. Or if you want more of a meal and to feel like you've traveled back to medieval times, the nearby U Fleků is the oldest established brewery in Prague, brewing beer continuously for over 500 years (Pro tip: It's expensive for Prague, but good for the experience). At night, don't miss Lucerna Music Bar, a Prague landmark for both tourists and locals. The 80s/90s music video dance party on Fridays and Saturdays is a must. If you're more into cocktails, sip on choice cocktails and admire the baroque interior of The Alchemist Bar, or if you're more adventurous, order a Choose Your Fate cocktail and see what happens…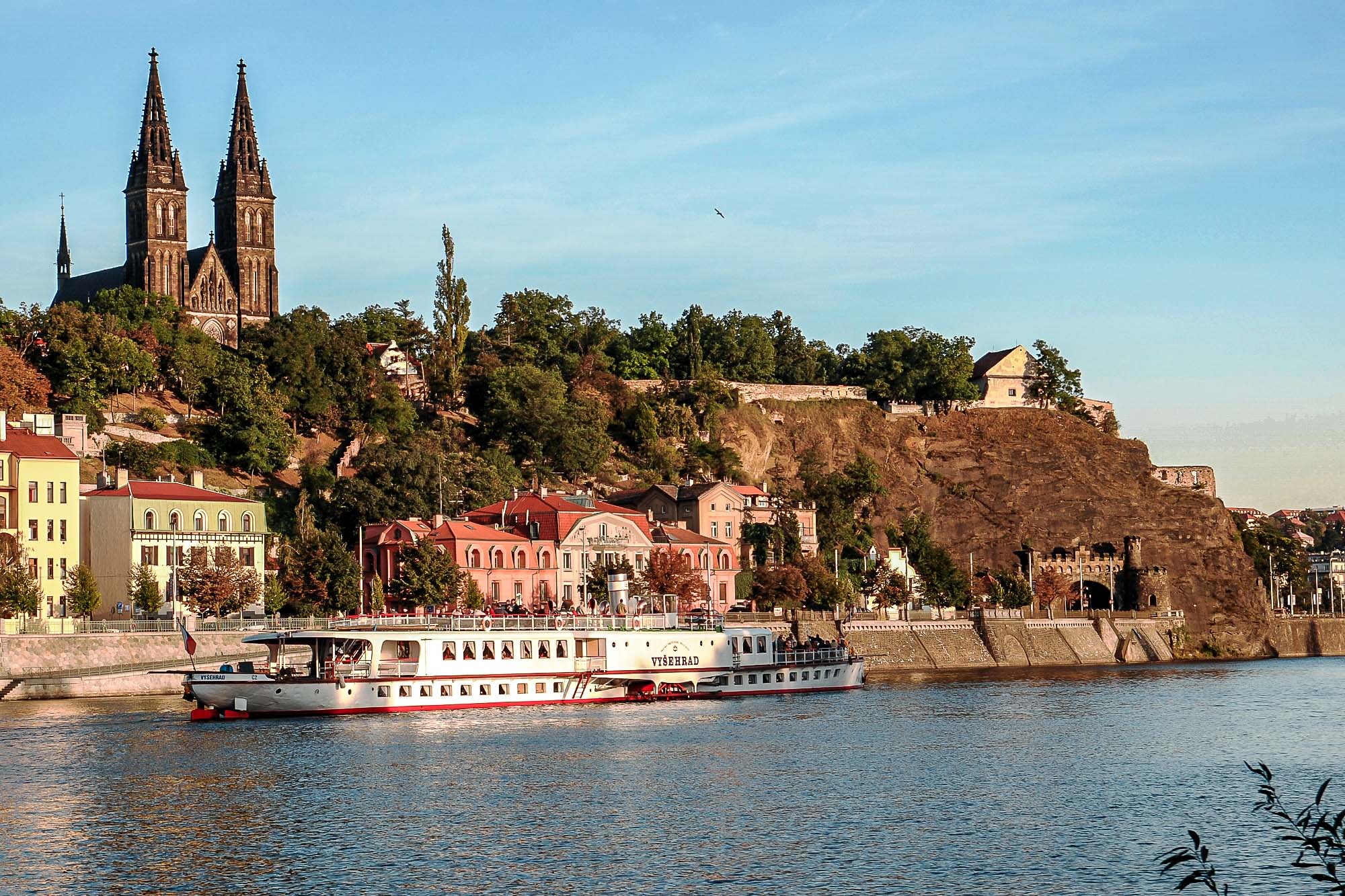 Vyšehrad
A little more south and less crowded lies the medieval citadel and grounds of Vyšehrad. It's very peaceful with an old church, national cemetery, and plenty of greenery. The views are spectacular. There's also a low-key beer garden there to enjoy a sausage and pint. If it's summer, you'll definitely want to make your way down the hill along the river to Náplavka (between the Palackého most (Palacký Bridge) and the Vytoň tram stop). When it's warm, the walkway next to the river comes alive with locals enjoying live music, food trucks, and beers.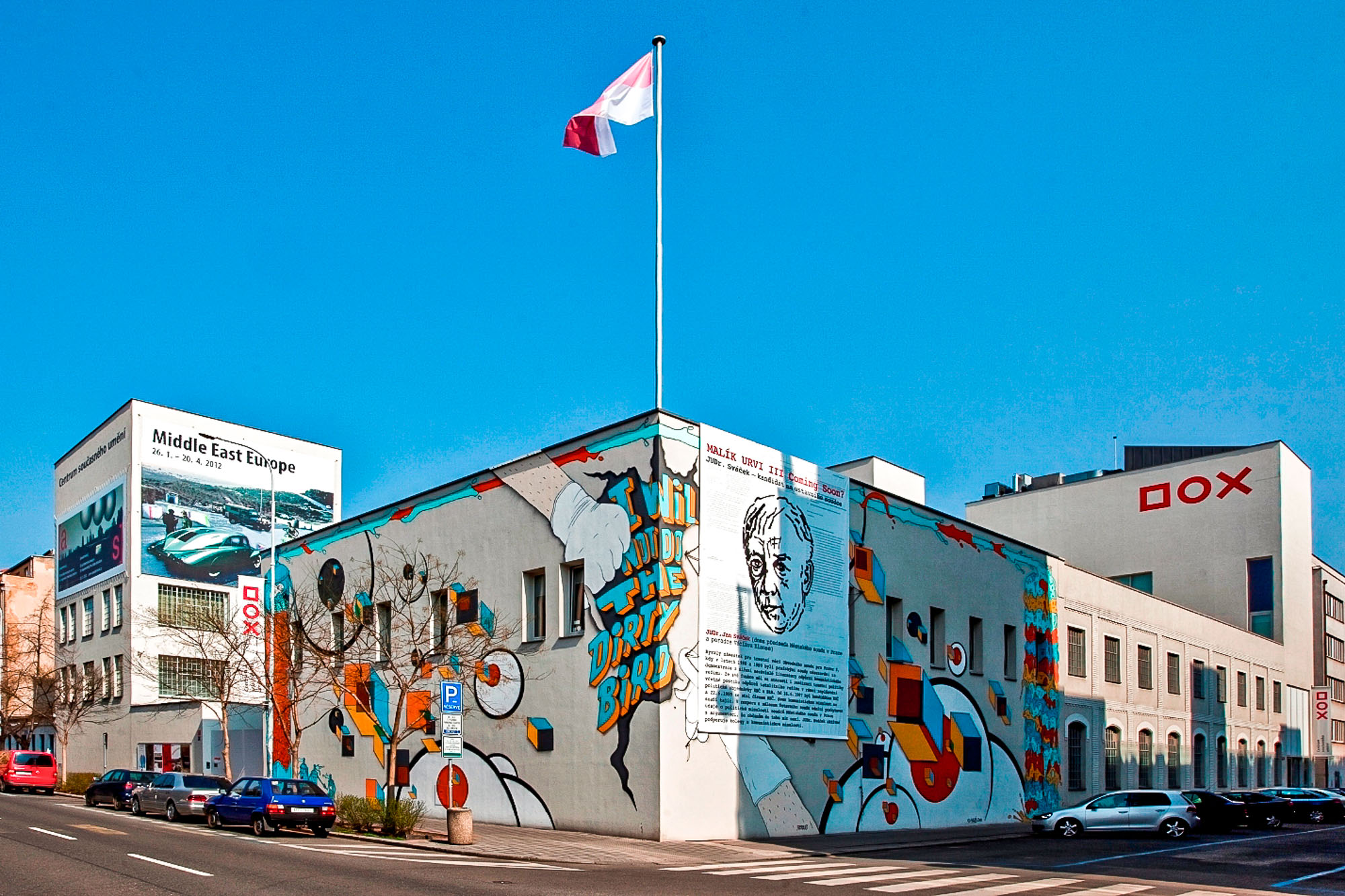 Off the Beaten path
Riegrovy sady is lovely for its "sunset hill" where locals frequently watch the sun go down over the city. The Dox Centre for Contemporary Art has rotating exhibits and mixed media in an interesting layout. Keep an eye out all over town for the work of David Cerny. You might have already spotted his Kampa Babies on a stroll.