The Amazing Tacos of Mexico City
If you visit Mexico City, you'll notice taco stands and taquerias are on every street and corner—no lie. We now refer to this gigantic food-filled city as Taco Land! We'll share the different styles and our favorite places to try them so you too can be an expert in no time.
But first things first: Don't expect tacos to be housed in big, flour tortillas and topped with cheese, guacamole, and sour cream—behemoths we often see in other parts of the world. In Mexico City, tacos are small, made with corn tortillas, and don't come with cheese, guacamole, or any type of sour cream; instead, toppings are carefully selected depending on the meat nestled inside.
The number of different types of tacos in Mexico City can be very overwhelming, especially if you haven't grown up with them. All of them are similar in that they are delicious and cheap, but there are different preparations, meats, vegetables, and toppings used. Here is a quick overview of some of the tastiest and most common tacos you will find lining the streets and bellies of Mexico City, along with some of our favorites spots to devour them!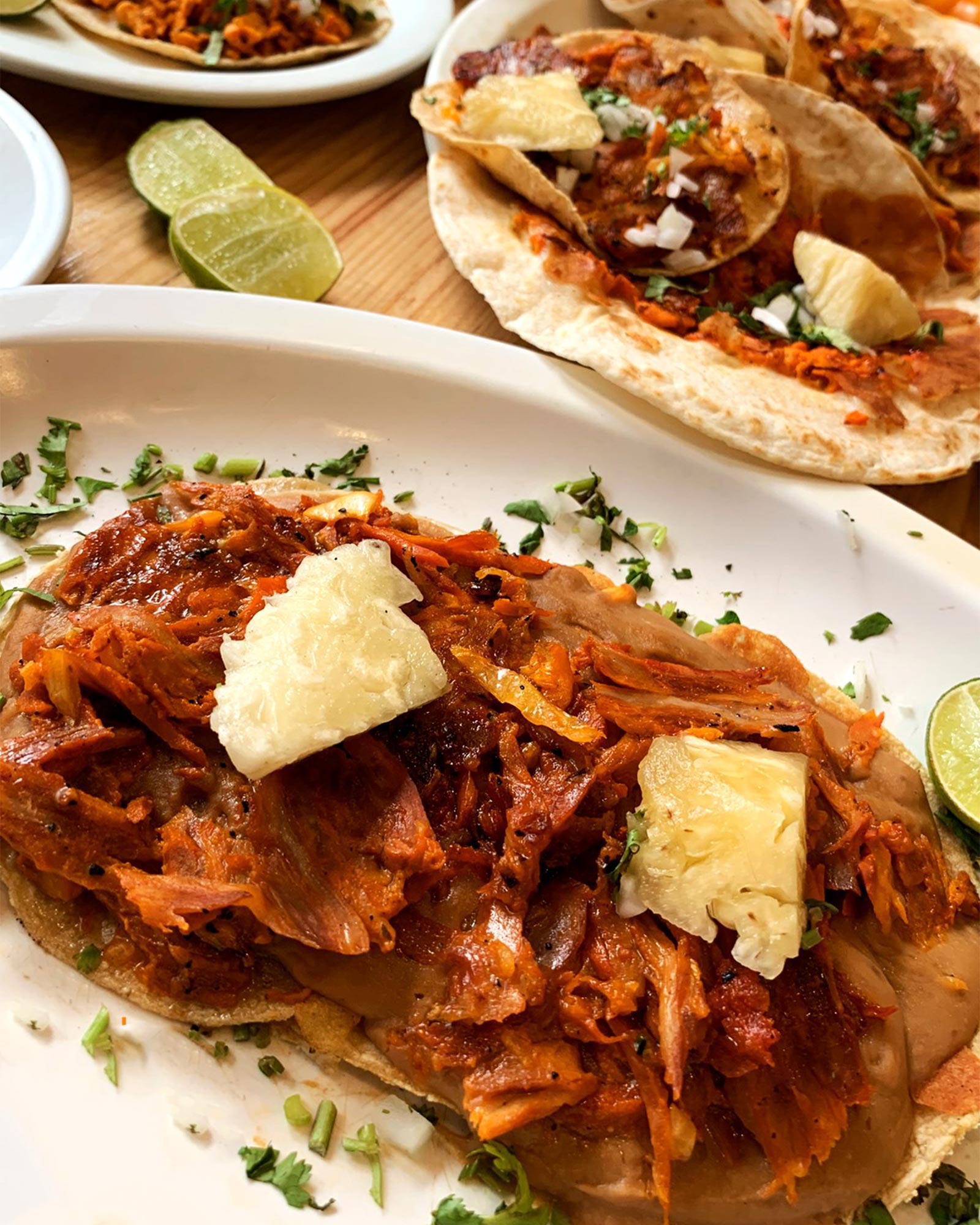 Tacos Al Pastor (Shepherd's Taco)
Start with a taco al pastor, which can be found everywhere since it's now become Mexico City's signature taco. Tacos al pastor originated in the city of Puebla in the 1930s when Lebanese immigrants introduced them to locals. They are prepared in a similar way to shawarma on a vertical rotisserie (trompo). The Mexican sheperds then adapted the technique replacing the lamb with the more easily found pork.
Two of our favorite spots to enjoy al pastor tacos are El Huequito and El Tizoncito. Both taquerias claim to be the first to create the al pastor, however, local legend has it that El Huequito was the first taquería to introduce the taco al pastor to Mexico City in the late 1950s, while El Tizoncito was the first taquería to add the now-beloved pineapple to their tacos al pastor in the mid-1960s. Aside from using pork instead of lamb, El Huequito has stayed true to the original Arabic recipes by not using chiles in their marinade or putting pineapple on their tacos, but they do have a fantastic orange salsa made with arbol chiles. At El Tizoncito, the marinated pork is usually served on small corn tortillas with cilantro, chopped onion, and pineapple.
All taquerías have their own proprietary marinade but they all contain chiles and achiote paste, which gives the meat its distinctive orange coloring. The magnificent sweet and sour flavor has created an insatiable demand for these tacos that are found across the city at street taco stands and taquerías from the early afternoon to late into the night.
Tacos al Pastor You Should Try
El Tizoncito (~13 locations in multiple colonias)

El Huequito (locations in multiple colonias)
Guisado Style Tacos (Stewed Tacos)
This style of taco is one we had never tasted outside of Mexico and is now among our favorites (well, maybe they are all our favorites). Guisado tacos (stewed tacos) are typically eaten in the morning or for lunch—they're usually gobbled up by 3 or 4 pm. They are often thought of as home-style or comfort food by locals, as Mexican mamas and abuelas would often have big pots stewing on the stove all day. This was so the family, who arrived home at different hours, could go to the kitchen to scoop up some delicious stewed filling onto the always-ready corn tortillas and enjoy a comforting, ready-made meal. These fragrant stews are placed in earthenware clay pots called cazuelas to keep them warm. These are an ancient taco with endless variations; basically, any ingredient that can be stewed or braised has likely been used to make a guisado taco somewhere in Mexico.
At most taquerias or fondas you will find over a dozen different choices, which often include vegetarian options such as breaded cauliflower or chile relleno, as well as favorites for meat lovers including picadillo hash (ground beef with veggies), pollo de tinga, and some more adventurous combinations. Rice, beans, and cheese are common additions and—if you're lucky—some places even offer guacamole (guacamole is considered more of a luxury—as it's more expensive to make—and therefore not a common addition to most tacos in Mexico City). Guisado tacos are known as "fast food" since the fillings are prepared in advance and they're easy to scoop onto your tortilla and plate.
Guisado Tacos You Should Try
Tacos Hola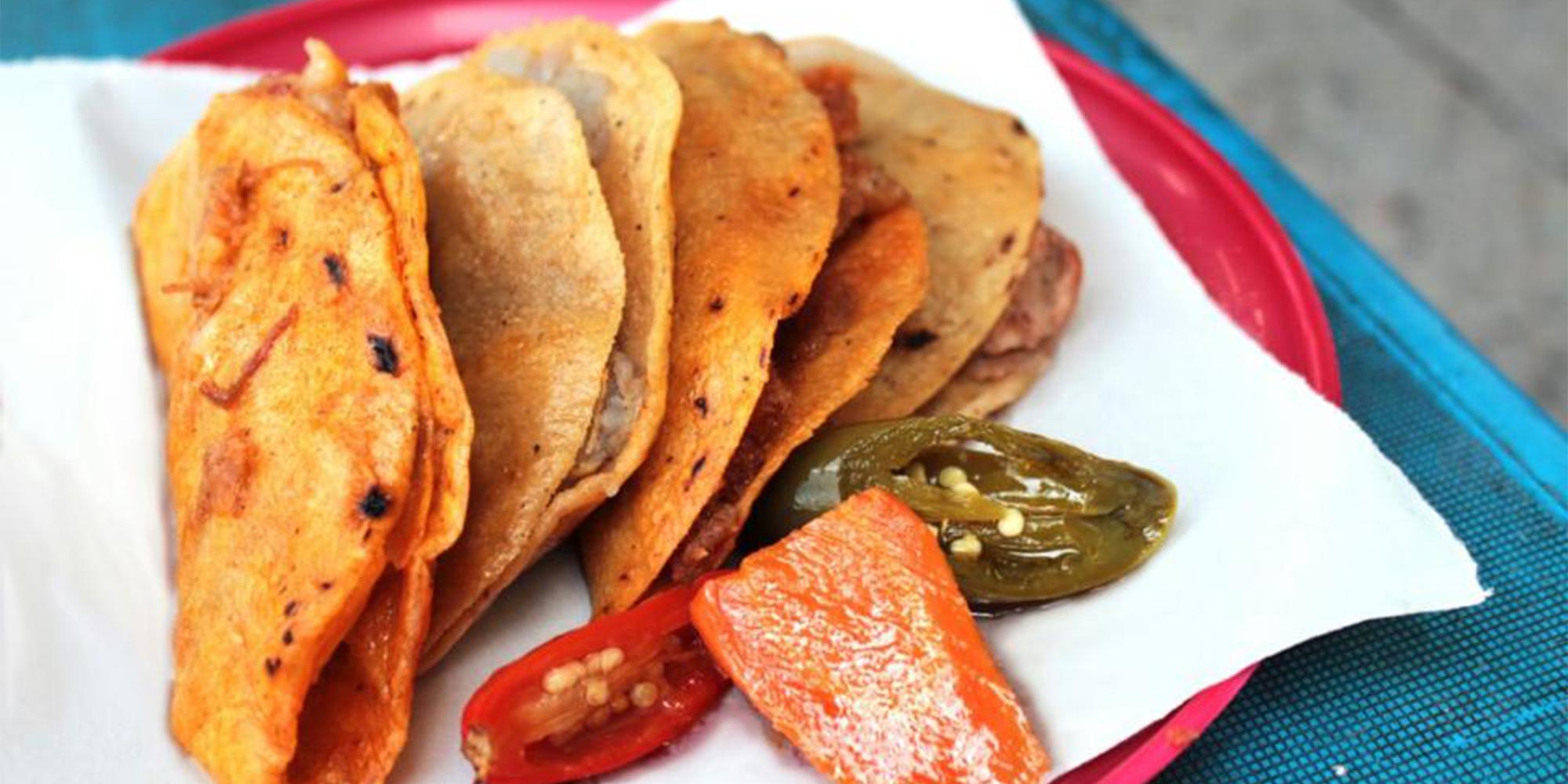 Canasta Tacos (Basket Tacos)
The canasta taco (basket taco), so named because they are traditionally sold in the streets of Mexico by basket toting vendors on bicycles or from street stands, is also unattractively referred to as the taco sudado (sweaty taco) or taco al vapor (steamed taco). We liken them to the texture and taste of a perogy (especially if you order the potato one) and we adore perogies. These tacos are drizzled with oil and steamed in a wicker basket lined with parchment paper and plastic for about two hours. The typical fillings include potato, refried beans, adobo (pork marinated in a guajillo chile sauce), and chicharrón. Add escabeche (pickled vegetables) with some spicy salsa and enjoy.
Canasta Tacos You Should Try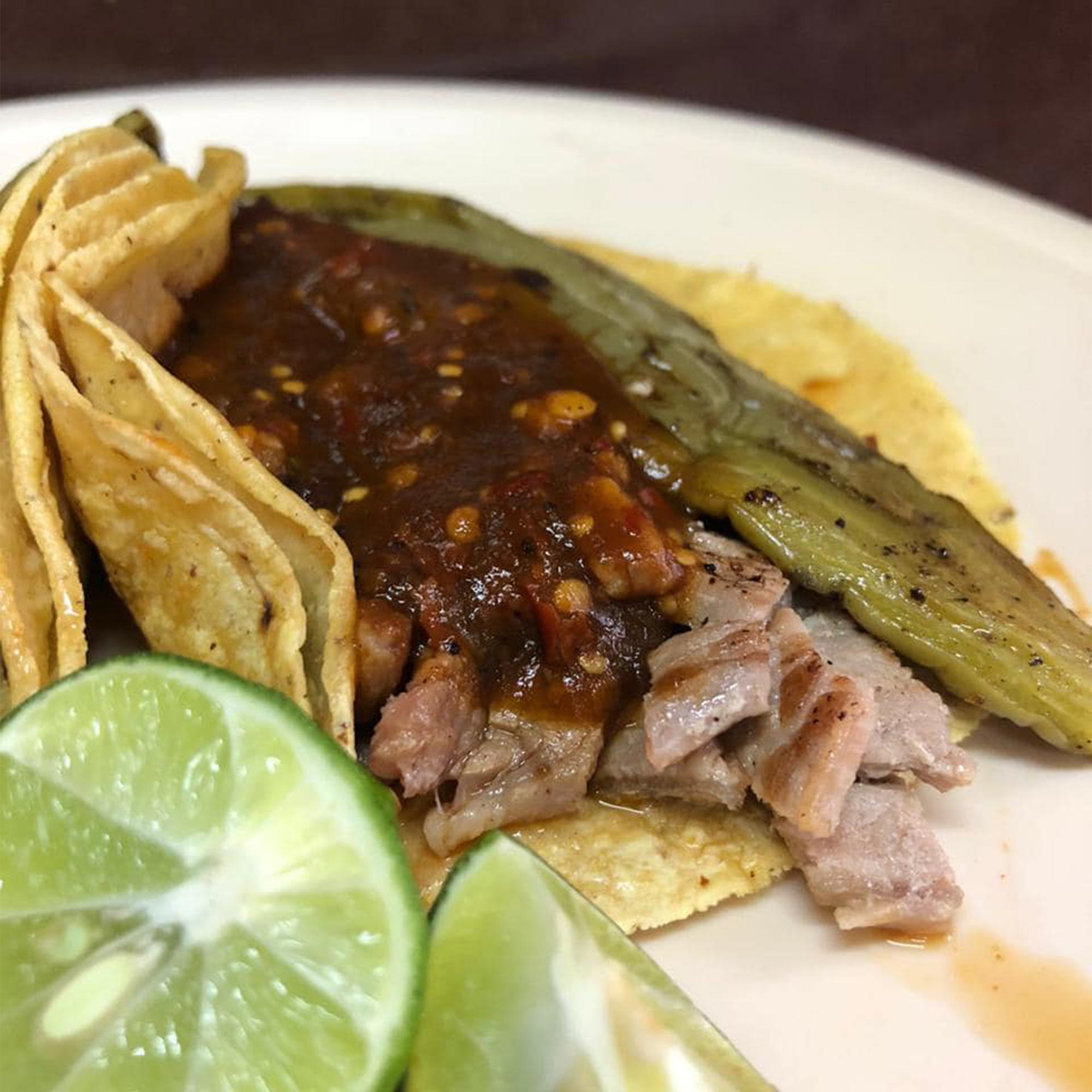 Carnitas Tacos (Small Meats)
Carnitas literally means "small meats" and they originated in the state of Michoacan. These pork tacos are traditionally made by braising or simmering the pork in its own lard in copper pots, and once the lard has melted, salt, chili, cumin, oregano, and thyme—along with crushed garlic and fresh orange juice—are added. The pork slowly cooks for about four hours, resulting in very juicy and tender "small" pieces of meat.
The entire pig is used in carnitas, so if you ask for a carnitas taco you could get any random part of the animal. If you are squeamish, ask for the maciza (lean cut from the shoulder or loin) or the chamorro (shank). A classic carnitas taco is topped with diced onion, cilantro, salsa, sometimes refried beans, and always a squeeze of lime.
Carnitas Tacos You Should Try
Taqueria Don Juan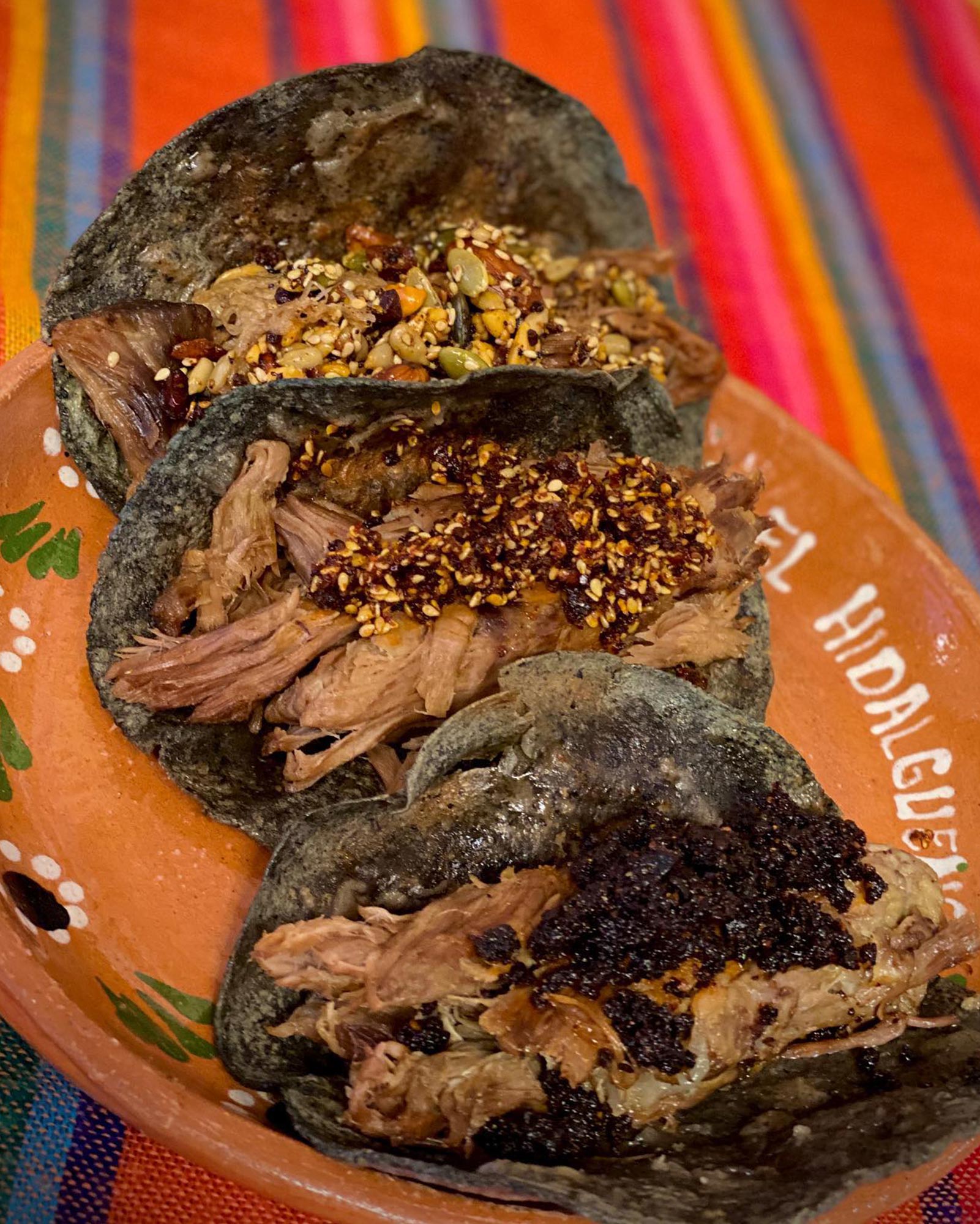 Barbacoa Tacos (Oven Pit Tacos)
The name barbacoa refers to a preparation of lamb (but sometimes birría or beef depending on the region of Mexico) where quite often the entire animal is steam cooked in an underground oven pit until succulent. The meat is seasoned with dried chilies and spices, wrapped or covered in maguey leaves, and left to slowly cook for up to ten hours underground until perfectly tender, giving it a smoky, spicy flavor. Barbacoa is especially popular on weekends when vendors who have prepared it in the countryside bring it to the city to be enjoyed over long, leisurely lunches. Some say it's a great cure for a hangover as well!
Barbacoa Tacos You Should Try
El Hidalguense
Suadero Tacos
This is yet another favorite taco because it is soooo tender. Suadero is the only taco to originate in Mexico City and is usually made from beef brisket or beef from the lower parts of the cow. The secret of the suadero taco is the special concave comal that is used for cooking. This unique instrument is relatively unknown outside of Mexico. The concave comal is a griddle and a deep-fryer at the same time. Taqueros cook almost every part of the cow in this gigantic comal filled with bubbling broth, meat juices and lard—we call it a meat jacuzzi. Once you order your preferred taco, the meat is taken from the meat jacuzzi, then caramelized to perfection on a flat comal, before it is chopped on a wooden block (tronco) and placed on a corn tortilla. Add a squeeze of lime and salsa—simple and delicious!
Suadero Tacos You Should Try
Los Cocuyos
---
We hope that after reading this you will follow your nose and hungry tummy to the wonderful world of tacos that Mexico City has waiting for you. If you don't have time to do some research on your own ahead of your visit, you can always book a tour with us at Tasty Bites Food Tours. We offer a few delicious ways to learn about and consume tacos on our curated food tours. Buen provecho!
{$section.image}
{$section.placeName}
{$section.address}
{$section.addressNotes}
{$section.description}
Saw this interesting article on Portico and wanted to share it with you:
{$section.title}
{$section.content}