Mexico City: A Fine Dining Destination
From five-star dining to street food, eating in Mexico City has never been more dynamic and exciting, making it a must-visit for any food lover. Why is the food scene here so rich and diverse? Because it's an integral part of the Mexican culture. Family gatherings, special occasions, changes in weather—daily life in Mexico is punctuated by food, every situation calling for a different dish.
The street food is awesome, especially the tacos, but don't let it overshadow the gourmet restaurant scene. Mexico City has amazingly talented chefs who explore modern renditions of traditional foods, blend Mexican ingredients into other cuisines, and craft delicious tasting menus and omakase dinners. We suggest you try at least one...or happily eat your way through the gourmet scene for your entire trip! If you're short on time, consider a food tour to give you a better sense of what the city has to offer.
Note: Making reservations in advance is highly recommended at these Mexico City favorites.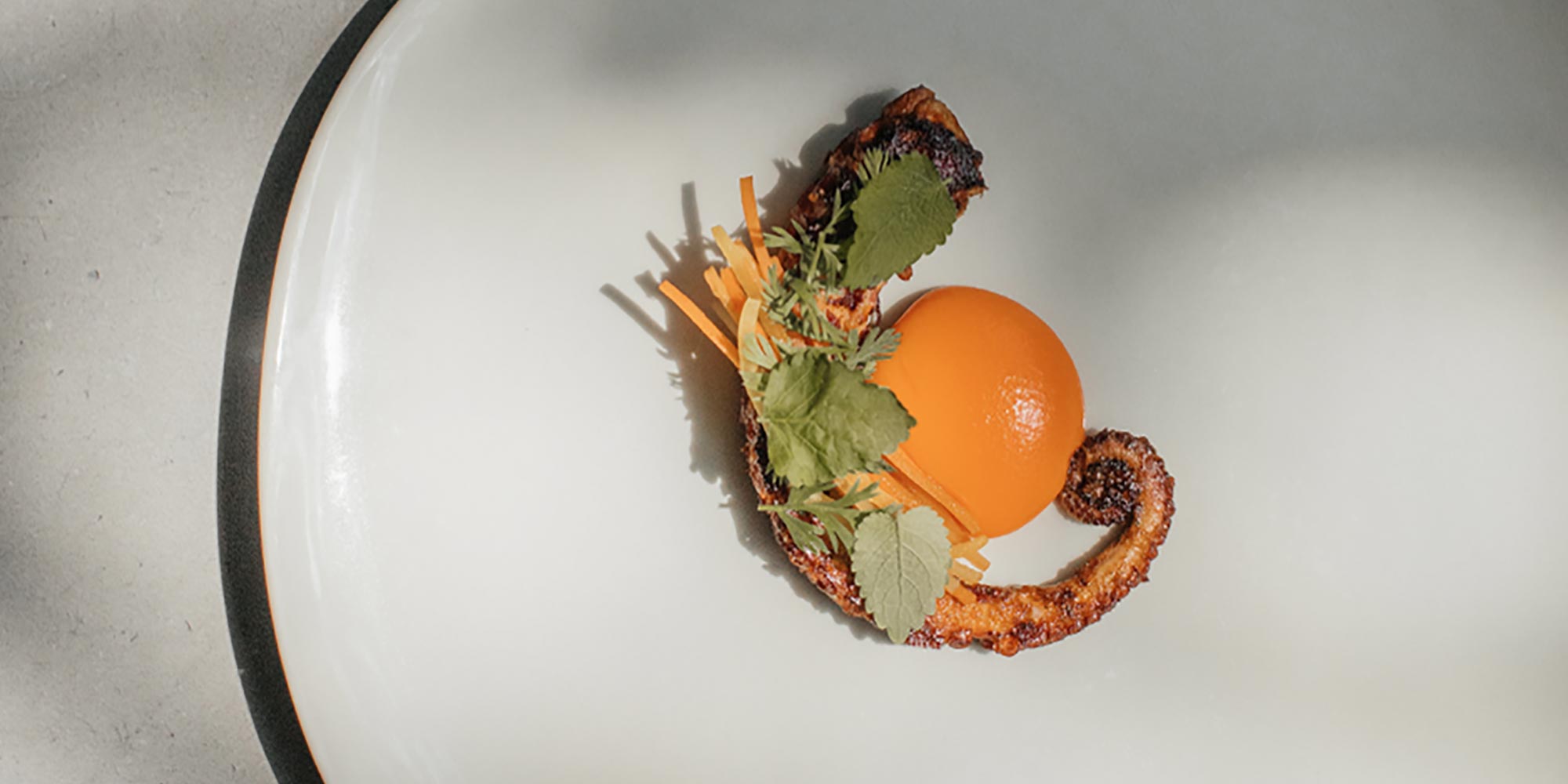 1. Pujol
Tennyson 133, Polanco, Polanco IV Secc, Miguel Hidalgo, 11570 Ciudad de México, CDMX, Mexico
with Chef Enrique Olvera
This spot in Polanco—Mexico City's Beverly Hills—is on every foodie's hit list. Serving up haute Mexican cuisine in a stunning zen-like venue has earned it a reputation as one of the World's Best Restaurants. The space itself is stunning—a calm, relaxing environment using natural materials, neutral colors, and natural stone floors; you will be amazed by the beauty of this space.
Now, let's get down to the serious matter of the food. Pujol offers a set six-course tasting menu which varies according to the season, using only fresh, seasonal ingredients. For four of those courses, you can choose your own preference among a variety of delicious dishes.
Chef Enrique Olvera is known for creating simple yet complex dishes using very traditional recipes and ingredients, while somehow transforming them into something modern and innovative. A perfect example would be his legendary mole madre which is a staple on the tasting menu. The dish is a circle formed by two sauces, a mole madre (mother mole) that has been cooking for over 1,400 days with a tablespoon of freshly made mole at the center. The sauce is eaten with tortillas, without utensils, until the plate has been polished clean—so tasty!
In addition to the tasting menu, Chef Olvera offers an omakase menu at the stunning bar. Up to 10 guests can enjoy a superb 12-course experience that includes tacos and other delights. Similar to the omakase-style restaurants of Japan, guests allow the chef to decide the menu, which at Pujol is an array of tacos made with the freshest ingredients of the day. Reservations for both must be made well in advance.
Chef Olvera's Cookbook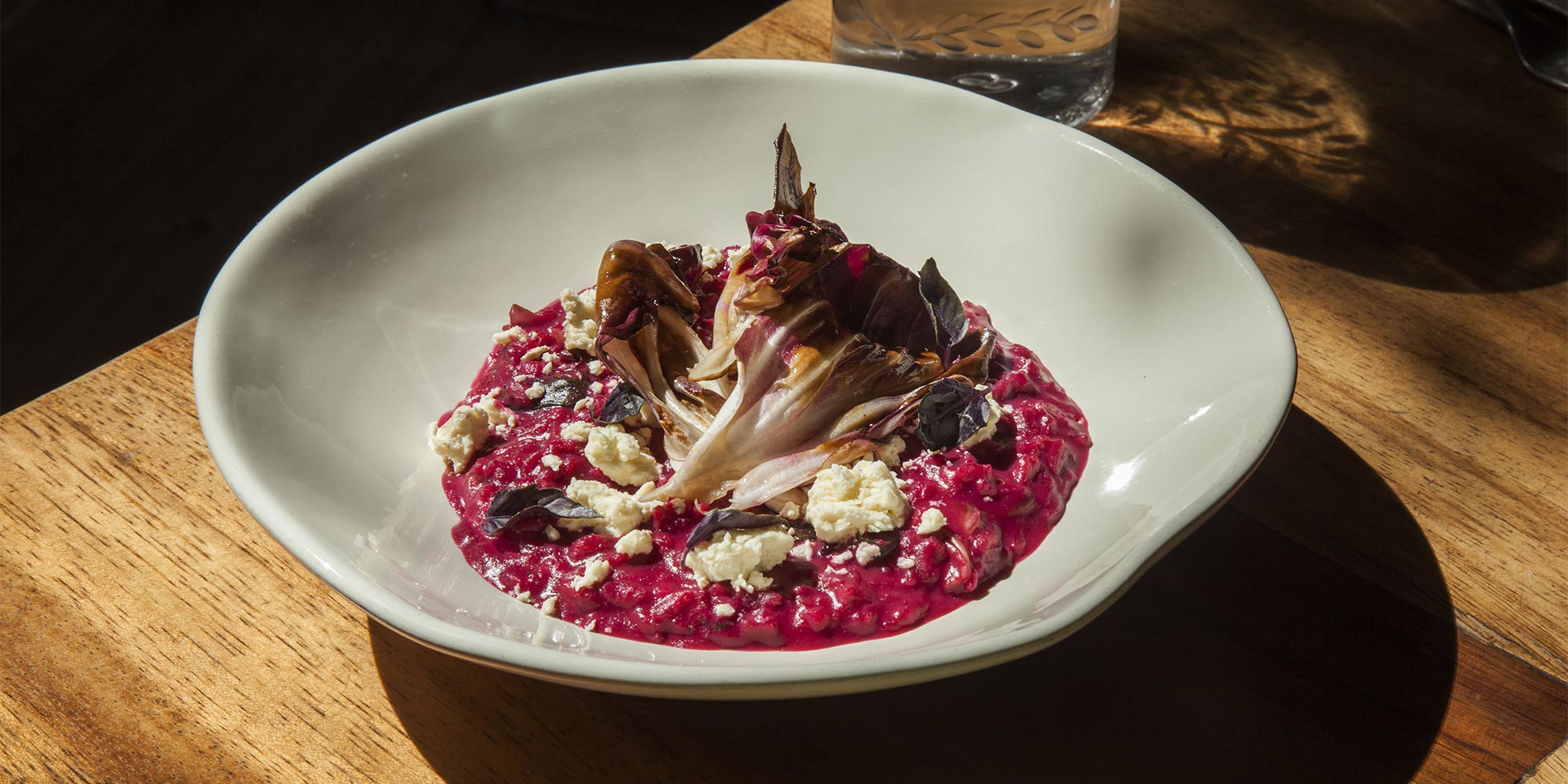 2. Rosetta
Colima 166, Col. Roma Norte, Roma Nte., 06700 Cuauhtémoc, CDMX, Mexico
with Chef Elena Reygadas
Chef Elena Reygadas has been recognized for her spot at the top; after opening her Italian restaurant Rosetta in 2010, she was voted Latin America's Best Female Chef in 2014 by World's 50 Best.
Rosetta is made up of a collection of beautiful rooms in a grand but welcoming mansion in the funky Roma Norte district of Mexico City. Service is attentive without being overbearing, showcasing the contemporary food which is sourced from specialist, small-scale producers.
Rosetta has a strong emphasis on Italian flavors with a Mexican flare. That being said, the Chef's exquisite hand-made pasta dishes really shine. You also cannot miss her re-interpretations of Mexican favorites like tamales and mole. All in all, this restaurant is a great place for a long, Mexico City-style lunch.
Rosetta is also home to an in-house bakery that has become an institution in itself, which is why another two (Panadería Rosetta Havre and Panadería Rosetta Puebla) have popped up around the neighborhood. The bread and desserts are simply a revelation—the best in the city—so if you don't have time for a meal, stopping by one of these panaderias is also a great option.
Chef Elena's Cookbook
3. Quintonil
55 Av. Isaac Newton, Ciudad de México, CDMX 11560
with Chef Jorge Vallejo
Quintonil, in the posh Polanco neighborhood of Mexico City, has been included on the World's 50 Best Restaurants list for Latin America every year since 2013 and is a must for food lovers. Chef Jorge Vallejo uses only the finest of local ingredients—and by local that includes the rooftop garden above the restaurant. He is exalted as a shining new talent of Mexican gastronomy, and the kitchen here offers a 10-course tasting menu—including dishes like chilacayote squash with mole and cactus sorbet—that showcases indigenous Mexican ingredients like corn, beans, squash, chiles, and mushrooms. There are also a few meat dishes, and you can order à la carte if you don't want to commit to the experience of a lengthy tasting menu.
The space is simple and a little more casual so that the emphasis is on the food itself—definitely a solid spot for fine dining. People often compare it to its well-known counterpart Pujol, and if you want to pick a winner you will have to try them both!
Chef Jorge's Cookbook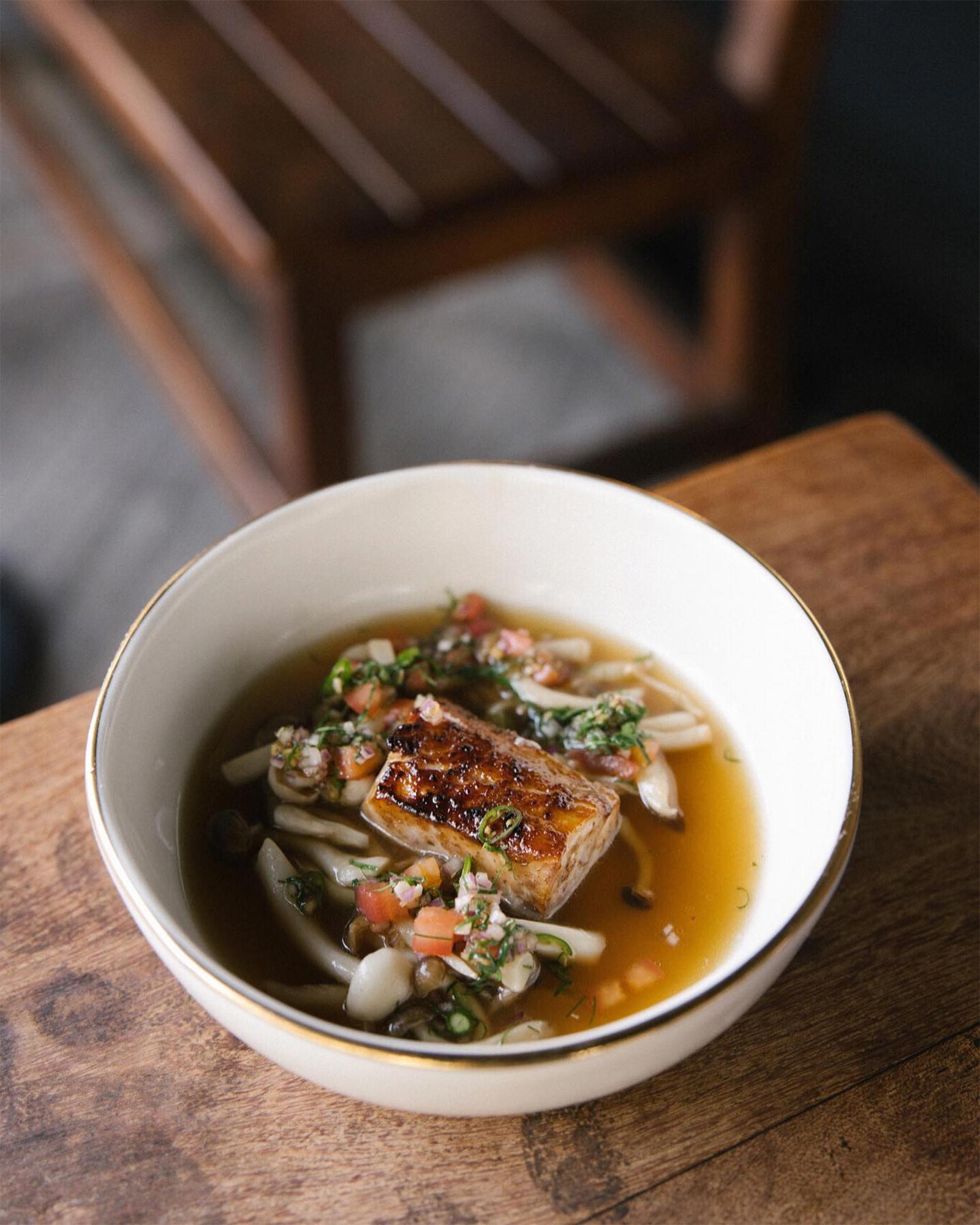 4. Máximo Bistrot
133 Tonalá, Cuauhtemoc, CDMX 06700
with Chef Eduardo García
One of Latin America's top restaurants, Máximo Bistrot is set on a corner in trendy La Roma. The space is low-lit and understated with a half-open kitchen where you can watch the chefs hard at work. It is a true farm-to-table restaurant dishing up amazing French plates made with Mexican-grown ingredients. Chef Eduardo García is considered one of Mexico's best chefs. He also owns Lalo!, a more casual day-time spot known for its brunch, as well as the French brasserie Havre 77. This restaurant attracts an upscale crowd of both locals and tourists who enjoy tasting the daily changing menu that can include everything from roast chicken and crisp-skinned trout with clams to liver spread on toast with sweet cherries. It is definitely a place you want to include on your list!


Chef Eduardo's Cookbook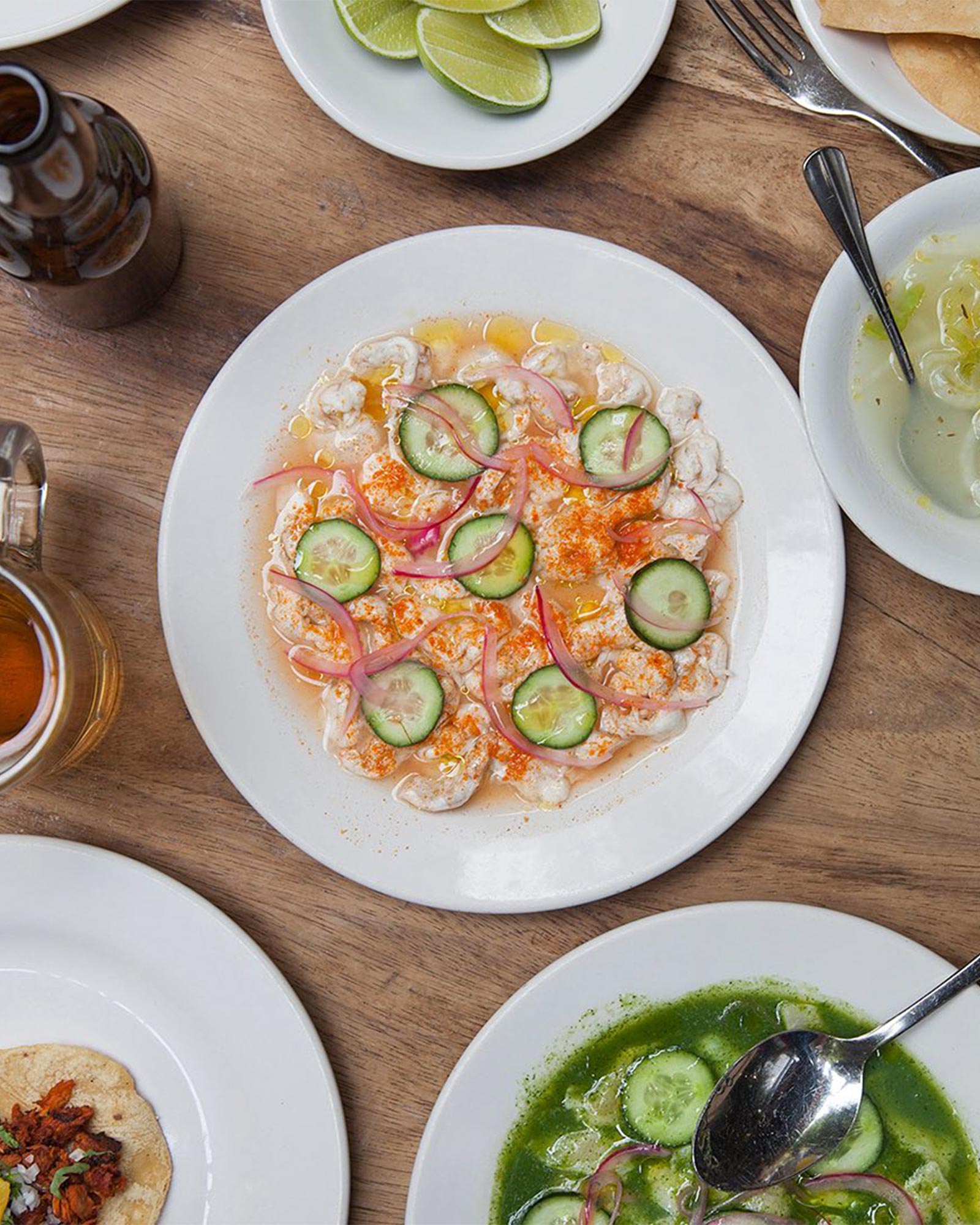 5. Contramar
200 Calle de Durango, Ciudad de México, CDMX 06700
with Chef Gabriela Cámara
Look for the crowds! This relatively unassuming spot in Roma is an institution and the place to "power lunch" while in Mexico City (especially since the kitchen closes at 6:30pm most nights). The mainly white-and-blue restaurant with bamboo accents has an indoor-outdoor feel and a slight nautical theme, giving it both an elegant and beachy ambiance. Here you will find fleets of waiters swooping between the tables of politicians, actors, and other important, well-dressed Chilangos (as Mexico City natives are called) dining on delectable grilled fish, margaritas, and the electric atmosphere. What you absolutely must try is renowned and beloved chef Gabriela Cámara's famous tuna tostadas, the signature red and green grilled fish, and for dessert the beautiful fig tart.
Chef Gabriela's Cookbook
---
All in all, there is a bustling gourmet, fine-dining food scene in Mexico City that has to be tasted to be believed. We love the food here so much we started a food tour company called Tasty Bites Food Tours that offers everything from taco and tequila tours to a gourmet foodie experience tour of Roma Norte. We always suggest starting your vacation with a food tour to get you started.
{$section.image}
{$section.placeName}
{$section.address}
{$section.addressNotes}
{$section.description}
Saw this interesting article on Portico and wanted to share it with you:
{$section.title}
{$section.content}