by

StephanieSeber
I moved to Hawaii this year when all my travel plans were canceled due to COVID - 19 and I no longer wanted to be stuck living at my parent's house. I landed in Haleiwa on the North Shore, where it's a little more country and a lot less city, I'm taking roosters waking me up in the morning. It's the perfect place for a quiet getaway and in the winter, a great spot to watch all the surf competitions (most are canceled due to COVID). Poke, raw fish served over rice, is the popular Hawaiian dish and I've visited almost every place on the island claiming they have the best. A little secret Tamura's Grocery Store has the best basic poke. I've been taking our own advice and exploring the island and checking out some of the favorite local spots.
Eat
Mayas Tapas & Wine
For locally sourced ingredients on a worldly platform, with emphasis on Spanish and Mediterranean cuisine. Be sure to try Lost At Sea and the Shishito Peppers and Brussel Sprouts.
Deck.
For more of a dining experience, check out deck for an upscale New American fare & craft cocktails served in a stylish, open-air space with views of diamond head.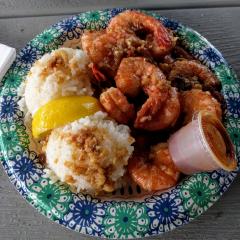 Giovanni's Shrimp Truck
The best garlic shrimp on the island, Giovanni's serves large portions with a heap of rice.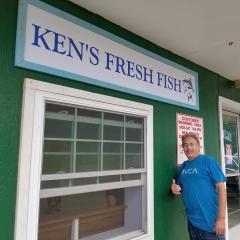 Ken's Fresh Fish
Fresh island fish fillets, various handcrafted poke, dried fish, and sashimi. We also offer plates of fresh cooked fish shrimp and steaks. Also watch for lunch specials, namely known for their famous ahi "yellowfin tuna" katsu and our fresh never frozen poke. The fish will melt in your mouth.
Poke for the People
THE BEST POKE. I've tried a lot of poke on the island and this one is my favorite so far!
Wicked Hi Cafe
Had to throw some Boston in here ;) Check out their sourdough pizza and waffles... You won't be disappointed.
Hikes
Kuliouou Ridge Trail
This trail rises almost 1800 feet before peaking on the spine of the Ko`olau Ridge. It's a great hike and a tough run, for it is steep, but it is very run-able and offers a great reward in the form of spectacular views. The locals say that you're suppose to run to the top, come back down to the picnic table, and then run back to the top again. Pack extra water and snacks!
Crouching Lion
A trail for moderate hikers, crouching lion gives you stunning views of Huilua Pond and Kaʻaʻawa. It can get slippery on rainy days so be sure to wear good shoes. Pro Tip: If you're looking for something more challenging, go right at the fork.
Koko Crater Railway Trailhead
This hike is not for beginners! 1000 plus step-like walking track consists of abandoned railroad ties that run along the crater's west side to the top of Koko Crater. Bring lots of water and go late in the afternoon or early morning.
Beaches
Sunset Beach
The iconic North Shore Beach is the perfect spot to watch the sunset and snap some pics for your Instagram.
Lanikai Beach
A beatiful beach with the iconic islands in the background it a great spot for photos and swimming in the calm waters. Lanikai is recognized as being great place to watch the moonrise over the Mokuluas, especially during the full moon. Occasionally during the year the sun will rise directly between the Na Mokulua islands.
Snorkel Spots
Shark's Cove
A great snorkel spot if you make it up to the North Shore. But it's only accessible in the summer! If you're in a pinch for food, go to Foodland for good poke! Trust me, this grocery store poke is some of the best!
Hanauma Bay
An iconic place to snorkel all year round! Be sure to go early morning to beat the traffic!
Hawaiian Electric Beach Park
A great spot to snorkel with clear waters! Be sure to find the warm water pockets!
Waterfalls
Lulumahu Falls
A local favorite, and a little bit illegal. The views are worth it.
Waimano Falls
A great walk to the falls and a refreshing dip at the bottom before you make the climb back up the mountain.
Other
WORKSHOP Coworking
Best (and only) coworking spot on the North Shore.
{$section.icon}
{$section.name}
{$section.sidebar}
{$section.tripItems}
{$section.icon}
{$section.name}
{$section.images}
{$section.tripItems}
{$tripItem.image}
{$tripItem.favorite}
{$tripItem.title}
{$tripItem.notes}