Todos Santos
TODOS SANTOS
|
MORE THAN 2 YEARS AGO
|
by

Jacqueline
Finding more off the beaten path places that still have a fun local vibe and some cool art, food and cocktails can be hard. But if you're willing to travel the extra miles, Todos Santos on the Baja peninsula has it all. It's not luxury, but it is authentic and cool. With a new highway from Cabo it's likely to be discovered by more people soon. And if you surf, the pro-tip we discovered from the locals is that the surf in Todos Santos is best in the fall…in the spring you need to go to the gulf side of the Baja peninsula.
Sleep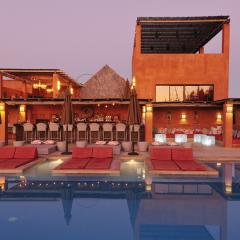 Rancho Pescadero
A lovely adults only resort right by the beach in Baja Sur. Rooms feel like their own casitas and there are multiple pools to choose from and the landscaping and mangrove trees make you feel like you are at a friend's house rather than a crowded resort. Two special touches: the excellent margaritas and guacamole while you wait for your room and that when you're on the beach it feels private as you can't see the hotel given the sand dunes. If you walk the beach nearby, keep an eye out for their neighbor who takes care of the baby turtles when they're hatching. On early mornings you just might see her helping some down to the ocean.
Mornings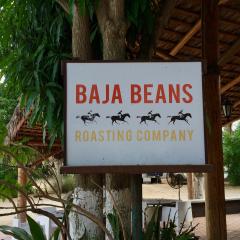 Baja Beans
It's the local spot to grab an espresso and pastry or my favorite, the biscuit sandwich, piled with egg and avocado on a cheddar biscuit. With the relaxed local pace, people linger at the outdoor tables under the palm trees, enjoying a morning break. We often encountered two guys we had met at our hotel – who have vacationed in Todos Santos the last 20 years with the same surf/espresso routine!
Mario Surf School
Best to reserve ahead, Mario's is located right on Cerritos Beach. They know the surf incredibly well so whether you're a newbie or looking for a refresher, they're a great group to book. It's easy to coordinate over email or you can book directly online.
Cerritos Beach
Wide open beach south of Todos Santos that has surf for all levels.
San Pedrito Beach
Local surf spot. Given the break and the rocks, it was definitely a spot for the experts! You'll often find avid surfers camping nearby.
In Town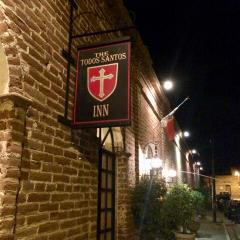 The Todos Santos Inn
The inn was originally built in the 1870s as a sugar baron's estate. It has been beautifully restored and creates a magical charm with its vaulted wood beam ceilings, intimate rooms and cozy courtyards with luscious vegetation. It's a great spot to stay, or start your evenings in town. The bar makes delicious, creative cocktails. My favorite was the guajillo martini, composed of tequila infused with mango and chili, fresh lime juice and agave nectar.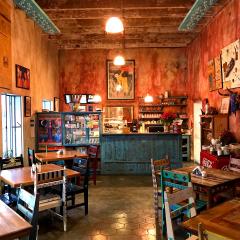 Caffe Todos Santos
Adorable cafe in the main part of town. As we walked by we noticed the local art on the wall - the same artist we had seen in a gallery just down the street. And through an archway and tiny kitchen, there was a delightful patio for lunch. The food being prepped in the kitchen looked delicious, and it's definitely on my list to visit next time.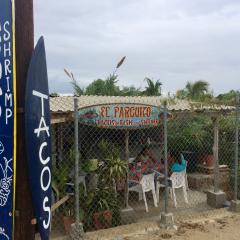 Tacos El Parguito
On the outskirts of town, we found dollar tacos at El Parguito, eaten on saran wrap covered plates and flowery plastic tablecloths. We watched Benny and Celina (mother and daughter) cook our fish and then we layered on the pickled onions, salsa, and chilies. The tacos were so good we couldn't stop at just one! In chatting with Benny and Celina, we learned that the local community is very tight knit. It was inspiring to hear how each summer they come together to create camps for the local children – surf lessons by Mario, art class by another, soccer, etc. – any way to entertain the kids while their parents were at work. Just an fyi that Benny and Celina only speak Spanish.
{$section.icon}
{$section.name}
{$section.sidebar}
{$section.tripItems}
{$section.icon}
{$section.name}
{$section.images}
{$section.tripItems}
{$tripItem.image}
{$tripItem.favorite}
{$tripItem.title}
{$tripItem.notes}