Skiing Park City
PARK CITY
|
MORE THAN 2 YEARS AGO
|
by

Jacqueline
I've spent many a winter vacation in Park City, as you are practically guaranteed to have good snow...and this year (2019) it was phenomenal. Only a half hour drive from the Salt Lake City airport, Park City is incredibly convenient. With Deer Valley, Park City & the Canyons, there is ample terrain to choose from, whether you're a skier or a snowboarder. To complement it all is the quaint historic main street. Reminiscent of a mining town, it's a vibrant place in the evenings for either dinner or a cocktail.
Eat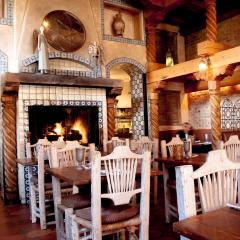 Chimayo
Come hungry or prepared to share. The portions at this Southwestern restaurant are huge. It's a fun place for groups.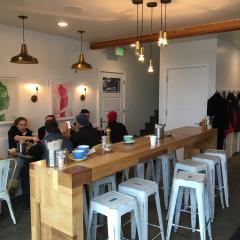 Harvest
Tired of crowded lodges and expensive food on the mountain? Then ski into town, lunch at Harvest (the BLAT sandwich is amazing) and then hop on the town lift back up to the slopes!
High West Distillery
If you're a bourbon drinker this is a must as they distill on the premises,, but regardless it's a popular spot for après ski or dinner. The truffle fries are always a hit! Just come early as there's always a line.
Riverhorse on Main
For a more elegant night out, check out Riverhorse on Main. The menu changes seasonally, and whether is seafood or steak, it's bound to be delicious. Many nights you'll find live music. Riverhorse is one of the oldest restaurants on main street, and as a 16 year recipient of the Forbes Travel Guide Four Star Award, reservations are suggested.
Wahso
A long standing tradition with my friends for Asian in PC. Yes, I know that sounds odd but the food is delicious! Wahso has been around since 2000, showing its staying power. Plus it's quite an experience with its art deco style that reflects Shanghai from the 1930s.
Montage Deer Valley
Easy access ski in/out for Deer Valley. Or perfect for a leisurely lunch while on the slopes.
Drink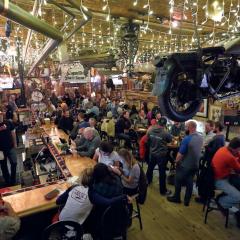 No Name Saloon & Grill
For beer lovers and shuffleboard players, stop by late night at the No Name Saloon. It's also a great place to watch March Madness!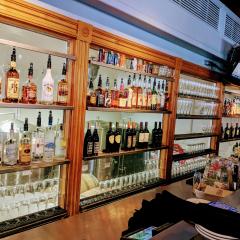 Wasatch Brew Pub
I haven't been there in years, but if you're a craft beer connoisseur, Wasatch is the place to go. Nestled up at the top of Main St., it's been a local favorite since the mid 1980s. Their founder proposed the legislation that brewpubs legal in Utah. Wasatch Brew Pub was the first to open.
Chocolate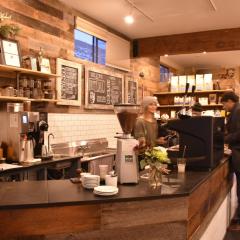 Ritual Chocolate
While I first tasted Ritual chocolate in a cool coffee shop in Nashville, I discovered it stems from Park City! I haven't been to the store yet, but their chocolate is delectable so it's a must for my next trip.
Tandem Chocolates
In the mood for truffles that blend European technique and modern flavors? Then explore just outside of downtown to Tandem Chocolates, where Phyllis Robinson launched her chocolate business just a few years ago.
Coffee
Atticus Coffee, Books & Teahouse
Highly recommended by friends, I'm hoping to check out this funky downtown spot. Their signature drink is The Finch (a Cubano style latte topped with cinnamon). Whether it's sipping a latte or exploring their books by local artists, it's bound to be great crowd watching.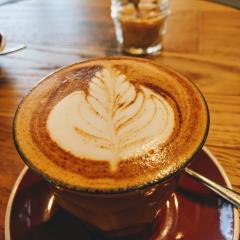 Campos Coffee Park City
To fuel up before hitting the slopes, stop by Campos Coffee at Park City Mountain
Pink Elephant Coffee Shop
Ready for an adventure? Head to town to find Pink Elephant. It's tucked away on the second floor...walk into Prospect clothing store to get there. It's all about craft coffee.
Ski
Boot Works
Ernie at Boot Works is the master boot fitter. Located at the base of Park City, he takes care of much of their youth ski team, plus some of the big names. But even for a random person, Ernie and his team are incredibly pleasant and knowledgeable. After uncomfortable boots for over a decade, Ernie took one look at my feet, correctly assessed the situation. I never knew skiing could be so comfortable.
Deer Valley Resort
Tired of snowboarders? Then head on over to Deer Valley for a fun day of skiing. Whether you start at the base or from one of the lodges, you can venture further back to avoid the crowds.. In which case, you might want to ski until early afternoon and then grab a leisurely lunch at the Montage.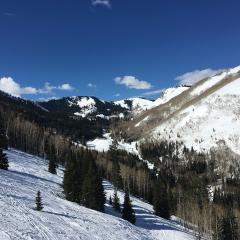 Park City Mountain
Favorite "break" spots on the mountain: Mid-mountain lodge for an Irish coffee, Miners Camp and the Yurt for lunch
Utah Olympic Park
Want to ski like the pros? Whether you prefer jumps or freestyle, try your skills at Olympic Park. Built for the 2002 Olympics, it is still the official US training site for the Olympics.
Art Galleries
Meyer Gallery
Cool little art gallery on Main Street
{$section.icon}
{$section.name}
{$section.sidebar}
{$section.tripItems}
{$section.icon}
{$section.name}
{$section.images}
{$section.tripItems}
{$tripItem.image}
{$tripItem.favorite}
{$tripItem.title}
{$tripItem.notes}