by

haleyroams
As someone who has lived in the tiny town of Telluride for almost 6 years now, I am sharing some of my favorite spots with travelers. This town has such a unique charm. It's small but has many amazing things to offer! The scenery is some of the best in North America. I've taken a fair amount of road trips around the US and a few in Canada. I can honestly say you won't find many other places that compare to Telluride. This guide is targeted mainly towards winter travel, so I don't touch on many hiking spots. However restaurants and accommodations would remain the same for either season. Please keep in mind that the town of Mountain Village is attached to Telluride via Gondola (learn more under places to see tab). Some of the spots listed bellow are in Mountain Village, some in Telluride, and some are a short drive out of Telluride.
Sleep
Fairmont Heritage Place - Franz Klammer Lodge
This hotel offers condo style units and is an exceptional place to stay. There are many wonderful views within the hotel. It's located in central Mountain Village right near the base of the ski hill. They have several hot tubs with Mountain Views. This is a dog friendly facility. They also offer yoga daily at 8:30am and it's only a $10 drop in! The public is welcome to attend yoga classes as well.
New Sheridan Hotel
This is probably the most authentic Telluride hotel. It's Victorian style takes you right back to the mining days. The hotel is on Main Street, and hosts a fine restaurant.
Eat
Cosmopolitan Restaurant
This place has an awesome happy hour with sushi and cheap strong cosmos! If you plan on going, get there to line up at 4:30 or 4:45 for their 5pm opening. Happy Hour is popular. They are located right at the bottom of the gondola on the Telluride side.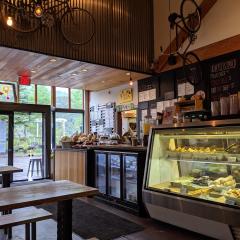 Aemono Fine Foods & Catering
This is an order at the counter style place that offers pizza, salad, sandwiches, and pre-made deli specials. The quality of their food is exceptional. If you are vegetarian or gluten free, you will have many options here. It is located in Lawson Hill which is a short drive from the town of Telluride near the Conoco fuel station. You could also get to Lawson Hill by walking the length of the valley floor out of the Town of Telluride. There is both a forest trail option, and a paved bike path along the main access road that goes into Telluride. The valley floor is a flat hike (rare for here). I would say it's about a mile and a half each way. So check the weather and be prepared if you do plan to hike there. Also, Aemono is located next to Telluride Brewing Company, so you could stop for a beer as well!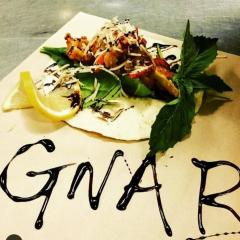 Taco del Gnar
This place has the most amazing tacos ever!! It tends to be a crowded spot (unless you were to go at 3pm or another off time of day). But it's order at the counter style and after you place your order, the food will come pretty quickly. You may end up waiting in line for a while to order at peak times, but it's worth it. In the summer or on a sunny day there is outdoor seating available. This restaurant also has a location in Ridgway that is larger. So if you were to visit any of the hot springs in Ridgway or Ouray, I would consider stopping at the Ridgway Taco Del Gnar.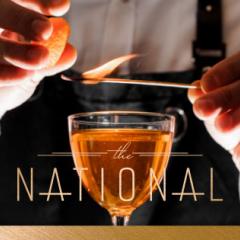 The National
This is Telluride's newest hip restaurant right off of main street in the heart of town. The food is amazing and so is the interior. I would say making a reservation is almost a must due to the popularity of this place. If you were to be here very early or late season, you may be able to sneak in the night of. This is definitely a special occasion type of place; I went on my birthday last year. I would recommend ordering an appetizer and desert to accompany your entree.
Brown Dog Pizza
This place honestly has some of the best pizza I have ever had. And I have lived in big cities before so this isn't just by Telluride standards. The Detroit Style Pizza with thick crust served in a square pan is my favorite! The location is on Main Street aka Colorado Ave. The interior is rustic, sporty, and exactly what a ski town bar restaurant should be. This place can make any of their pizzas gluten free.
Phoenix Bean
This lovely coffee shop is right on main street and has a great specious interior. There is an old fashioned feel inside, matching the exterior brick building that goes back to the mining days. You can enjoy both caffeinated, alcoholic, and other beverages of choice at this spot.
Poachers Pub
Poachers is a great casual place to grab lunch or a drink during a day of skiing. They have a nice selection of Colorado beer and cider on tap. This spot is definitely somewhat of a local's bar. If you go around 5, there will probably be several resort employees who just got off work. Or if you go around 11pm you will start to see people who just got off their restaurant shift.
Places to See
Gondola
What is a trip to Telluride without taking advantage of the free gondola that connects Telluride and Mountain Village? The gondola offers exceptional views, and makes it so that you can stay in Mountain Village and go to dinner in Telluride or vice versa. After the ski resort closes at 4pm, you can take a short walk off the top of the gondola from St Sophia station. This would be a great place to watch the sun set!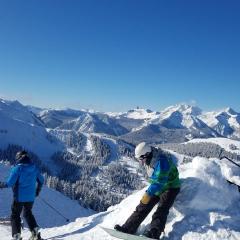 Telluride Ski Resort
Telluride is truly unmatched compared to other resorts in Colorado. The lift lines are shorter and you are always surrounded by towering jagged peaks. A fun part of the resort to explore is chairlifts 10, 11, and 12. These chairlifts offer everything from green and blue runs, all the way to black runs and hike-to runs. Also, it's possible to snowshoe from the top of chairlift 10 with a foot passenger ticket. So you don't even have to be a skier to ride this lift! Don't get hung up if you come when these chairs are closed however (they generally don't open until the week of Christmas). The entire resort has amazing views, great tree skiing, and something for everyone.
Bridal Veil Falls
If you are up for a snowshoeing adventure, I would recommend checking out either Bridal Veil Falls or Cornet Falls. The frozen waterfalls look so magnificent. It's a unique sight.
Hot Springs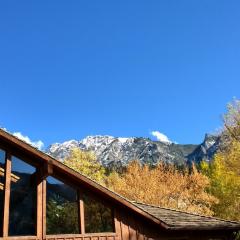 Wiesbaden Hot Springs Spa & Lodgings
Wiesbaden is a hot spring facility that offers underground natural vapor caves, a large hot spring pool and a private hot spring that is available for rent by the hour. This is a wonderful place to make a day trip from Telluride or Montrose. You can either purchase a day pass for soaking, or stay in their facility as a hotel guest.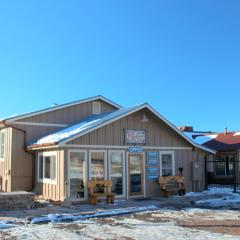 Orvis Hot Springs
Although this is an hour drive from Telluride, it's totally worth it! This is the most beautiful hot spring with several pools and a very natural feeling set up. Some hot springs are bacially just a pool that is being fed with spring water. Orvis however, has a very authentic feel with stone lined pools and fine gravel that allows your feet to sink in. They offer overnight accommodations as well as day passes for the hot springs. Please be aware that this spot is clothing optional. I would skip this if you are traveling with children. Also, the town of Ridgway where Orvis is located, is between Montrose and Telluride. So you could make this a stop on your way to or from the airport if you plan on flying through Montrose. Or if you're on a road trip, then even better!
Shopping
Wagner Custom Skis
Wagner makes amazing custom skis. If you are in the market for new skis, definitely check them out!
Telluride Trappings & Toggery
This places has a nice women's clothing selection including brands like Free People and some nice men's tops as well. They also offer souvenirs and Telluride gifts.
HOOK
This adoreable little place has nice home goods, souvenirs, and gifts.
Bootdoctors
Boot Doctors has everything from gear to nice clothing from brands like Prana and Patagonia. They have both Telluride and Mountain Village Locations.
{$section.icon}
{$section.name}
{$section.sidebar}
{$section.tripItems}
{$section.icon}
{$section.name}
{$section.images}
{$section.tripItems}
{$tripItem.image}
{$tripItem.favorite}
{$tripItem.title}
{$tripItem.notes}