There's always a party in New Orleans, but this festive city has a bunch of unique events throughout the year that make it shine and are definitely worth flying in for. From Bayou Boogaloo to Dirty Linen Night, Easter Parades to Mardi Gras, get to know all the big parties in the Crescent City. We've even added the dates for you for this year.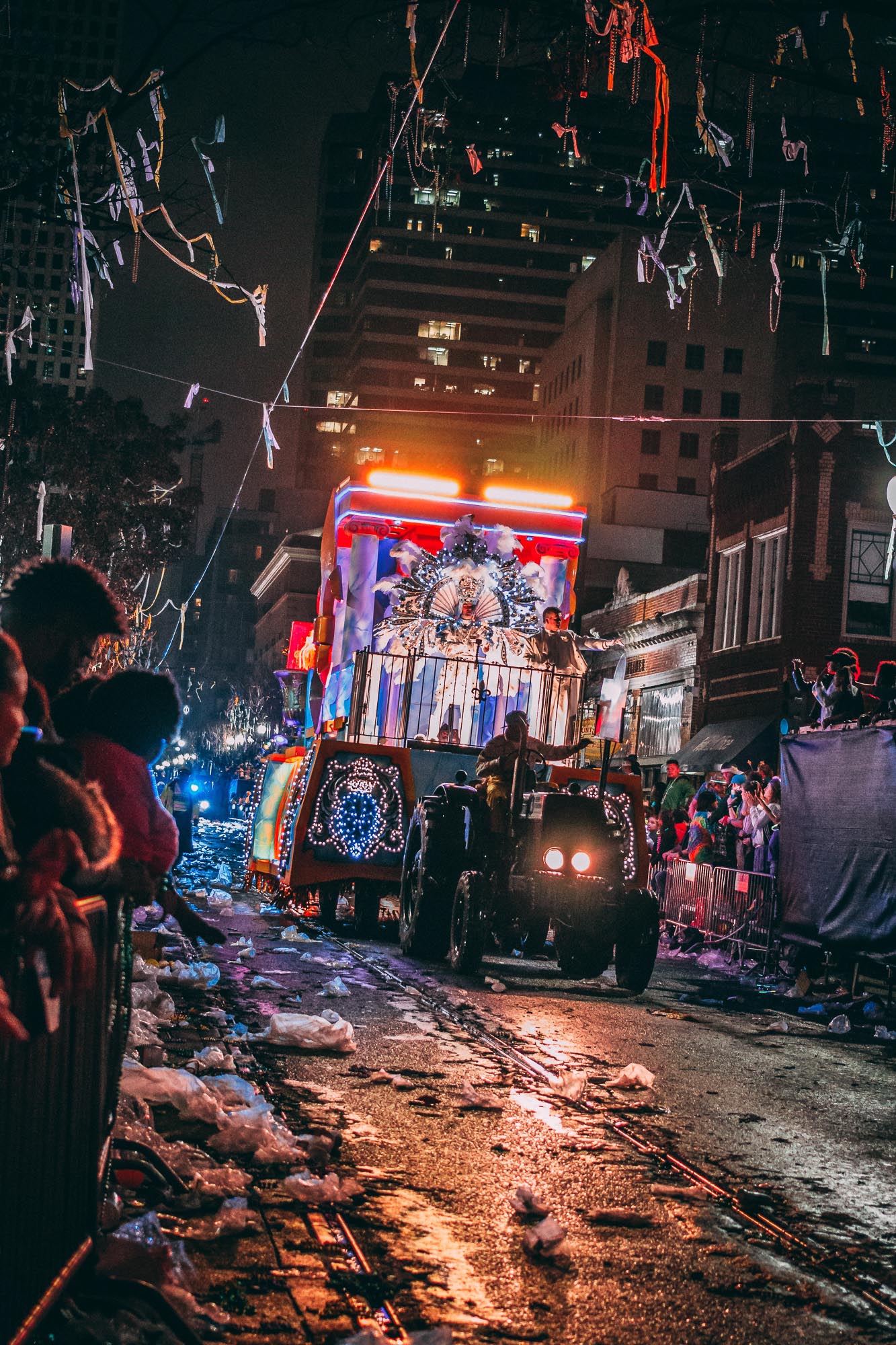 Winter
Sugar Bowl
Date: Jan 1, 2021
The Allstate Sugar Bowl on New Year's Day means a big college football game with plenty of festivities surrounding the weekend.
Learn more:
Mardi Gras
Date: Fat Tuesday (February 14, 2021) - but it's a whole season
Carnival celebration starts on January 6 with the feast of Epiphany and picks up speed through midnight on Fat Tuesday, the day before Ash Wednesday
Mardi Gras in New Orleans mostly means seven days of non‑stop parties and parades at this internationally recognized major city celebration with 1.4 million people in attendance.
Learn more:
GoNOLA 2020 Mardi Gras Guide
Official Mardi Gras New Orleans Site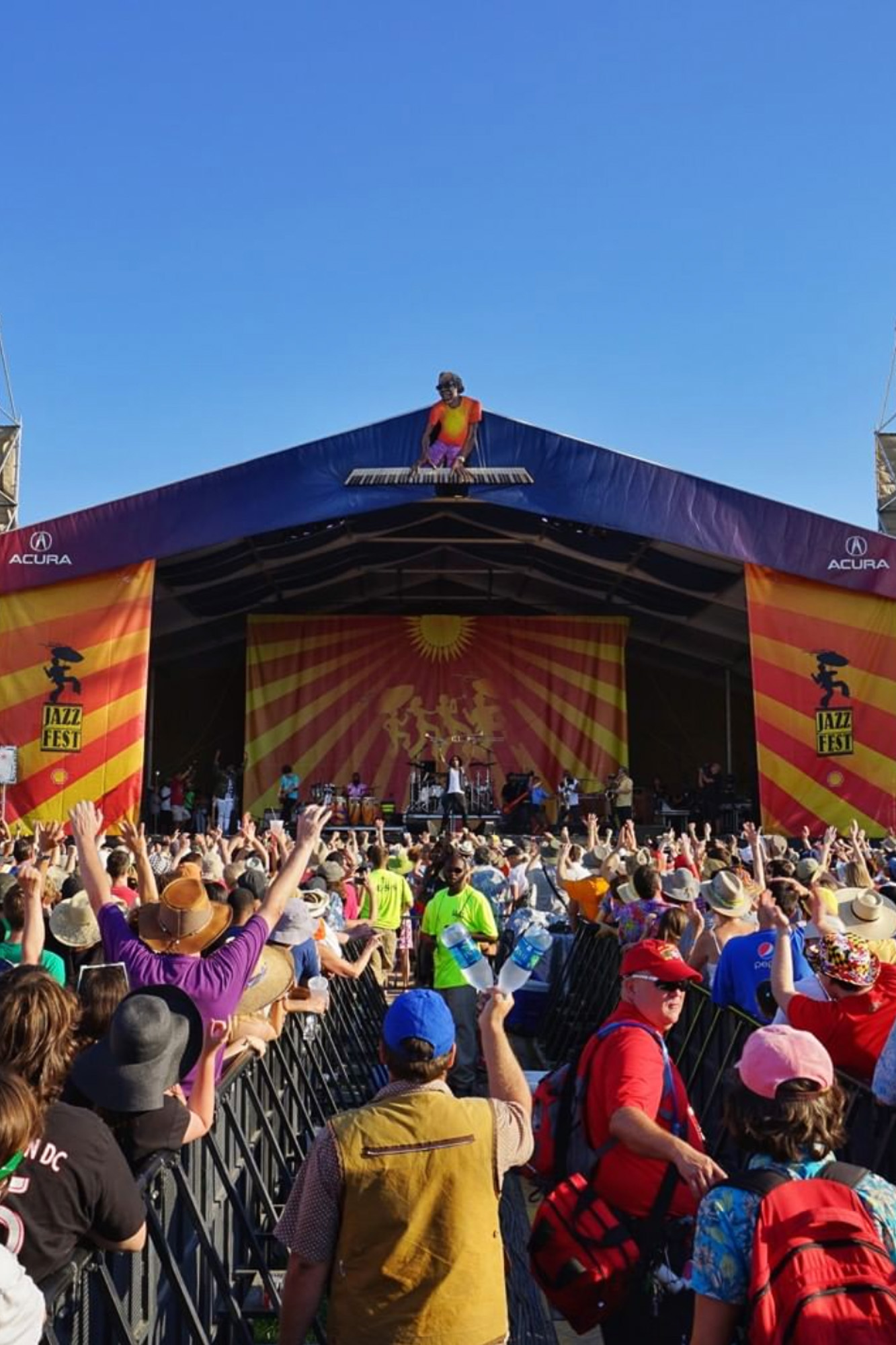 Spring
St. Patrick's Day
Date: March 17, 2021
St. Patrick's Day is at least a full weekend in New Orleans. There are celebrations all over the city, but the big draw is the Irish Channel Parade planned for Saturday, March 12th starting at 1pm.
Learn more:
New Orleans Food and Wine Experience
Date: typically March
A specialized event with about 10K in attendance, sommeliers, foodies, and connoisseurs come together for seminars, tastings, and special events across the city. The festival is most famous for its Royal Street Stroll to celebrate wine and food in the French Quarter. Ticket prices vary.
Learn more:
Official Site of New Orleans Food & Wine Experience
Tennessee Williams Literary Festival
Date: March 24–28, 2021
Tennessee Williams lovers unite every spring for this festival founded in 1986 to honor the playwright. Enjoy writing workshops, master classes, panels, live theater, celebrations, and educational walking tours. Ticket prices vary.
Learn more:
Tennessee Williams & NOLA Literary Festival
Louisiana Cajun‑Zydeco Festival
Date: typically late March
Enjoy music from Cajun/Zydeco music stars at Louis Armstrong Park. There's also a sampling of Louisiana seafood and Cajun food staples to try, along with an art market. Admission is free.
Learn more:
New Orleans Jazz & Festival Heritage
The Crescent City Classic
Date: typically in April
Run the wildly popular, 40+ year old 10K that starts in front of the Superdome and finishes along the beautiful Esplanade Avenue. See website for registration.
Learn more:
Crescent City Classic 10 K Official Site
Easter Parades
Date: April 4, 2021
Yes, we mean parades, plural. Each with its own flavor, the French Quarter is the place to be for the three main parades: The Historic French Quarter Easter Parade normally begins in the morning, followed by the annual Chris Owens Easter Parade and later, the Annual Official Gay Easter Parade.
Learn more:
Easter Day in New Orleans - NewOrleans.com
French Quarter Festival
Date: September 30-October 2, 2021
A whole weekend of nonstop music across 23 stages, food from 60+ vendors, and more celebrations in the heart of the French Quarter. Admission is free.
Learn more:
French Quarter Festival Official Site
Jazz and Heritage Festival
Date: October 8-17, 2021
Ten days dedicated to the music and celebration of jazz and beyond at the New Orleans Fair Grounds, you'll also find rock, indie, jazz, funk, blues, gospel, bounce and soul music top tier talent (and of course, food). With so much goodness and about 450,000 people in attendance, you'll want to check the official website for all the music and more, along with purchasing tickets.
Learn more:
New Orleans Jazz & Heritage Festival Official Site
Bayou Boogaloo
Date: typically in May
A real local's festival, you'll find food, music, vendors, and a lot of people hanging out in kayaks like its a water block party at the Bayou Boogaloo. Admission is $10 per day or $20 for all three days.
Learn more:
New Orleans Oyster Festival or Oyster Fest
Date: typically May
Consume oysters in any way imaginable at this festival dedicated to this local favorite, along with cooking demonstrations, live music, crafts, an oyster shucking contest, and more. Admission is free!
Learn more: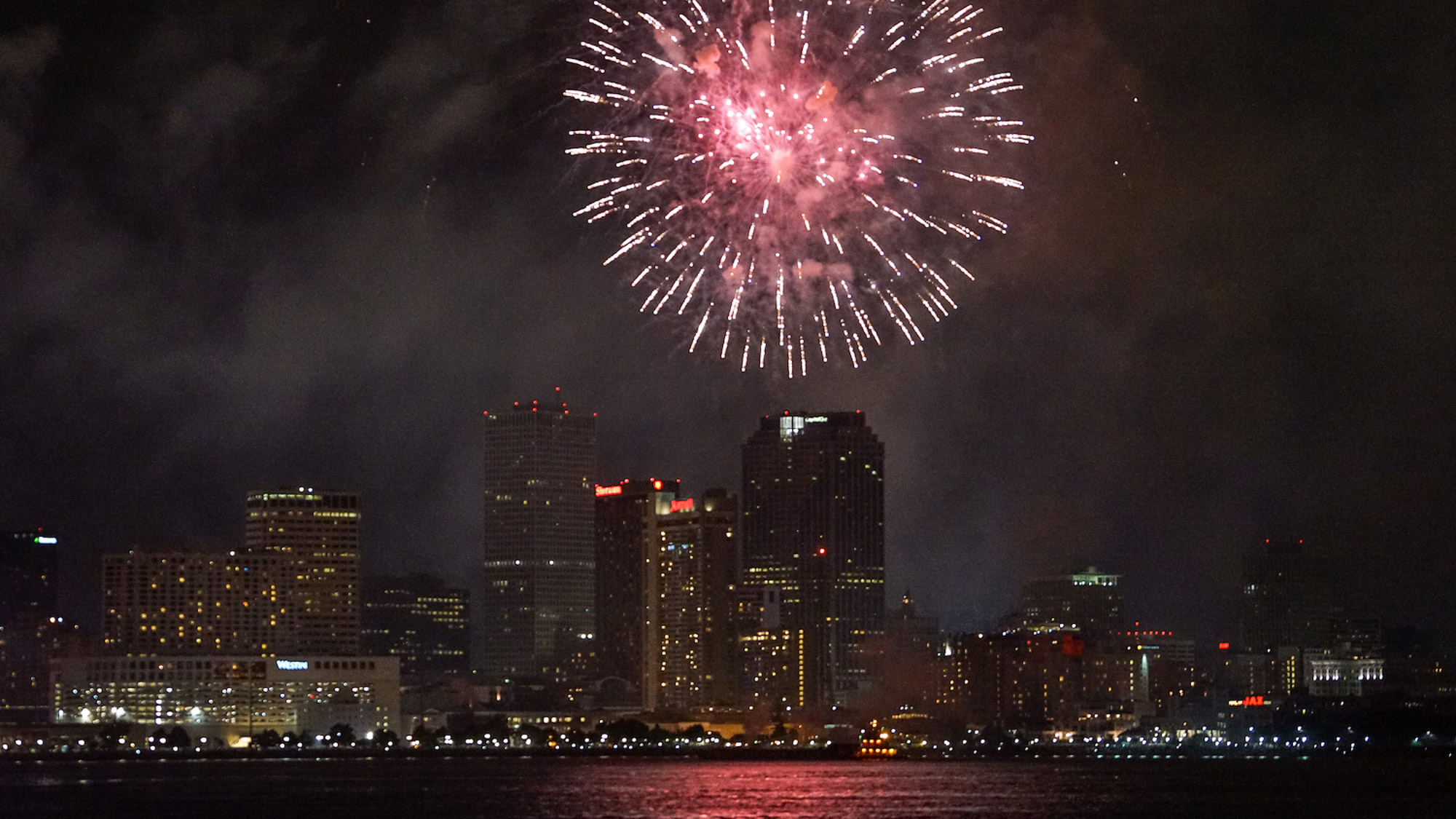 Summer
Creole Tomato Festival
Date: June 4-5, 2021
Find all your tomato favorites like a Bloody Mary Market and some of the juiciest tomatoes around. Enjoy music as well, all at the French Market.
Learn more:
French Market Creole Tomato Festival
Essence Festival
Date: typically in July
This mega annual celebration of black culture has been going on for over 25 years with over 500K attendees. It's very "who's who" when it comes to its celebrity speakers and epic music performances, along with nonstop events and parties, like the Beauty Carnival, Marketplace, and Essence Eats. Ticket prices vary.
Learn more:
Bastille Day
Date: July 14, 2021
As the most French city in America, you'll find several celebrations spread across the city.
Learn more:
Tales of the Cocktail
Date: September 20-23, 2021
One of the largest and most popular festivals dedicated to the cocktail, it primarily draws an industry crowd, but there are other events where anyone can raise a glass. Tickets vary.
Learn more:
Tales of the Cocktail Official Site
Satchmo Summerfest
Date: July 30–Aug 1, 2021
A festival celebrating Louis Armstrong at the New Orleans Jazz Museum, you'll find a string of contemporary and traditional jazz performers, food, and special events inside the museum. Check the website for tickets.
Learn more:
Satchmo Summerfest Official Site
Whitney White Linen Night
Date: August 7, 2021
Every year on the first Saturday in August, White Linen Night invites you to wear your best white outfit and head to the Warehouse District to visit the galleries along Julia Street and enjoy food, drink, and music. Admission is free, but there tends to be an after‑party at the Contemporary Arts Center.
Learn more:
Contemporary Arts Center - White Linen Night
Dirty Linen Night
Date: typically August
A week after White Linen Night, wear your white linen from the previous weekend (or whatever you want) and find a more casual art event on Royal Street (and hunt for free dirty martinis and dirty rice).
Learn more:
Dirty Linen Night Official Site
Red Dress Run
Date: August 14, 2021
Happening every second Saturday in August, runners in red take to the streets, although it's more of a party than a serious run. Tickets include lunch and party post‑race at Crescent Park with 100% of proceeds going to local charities.
Learn more: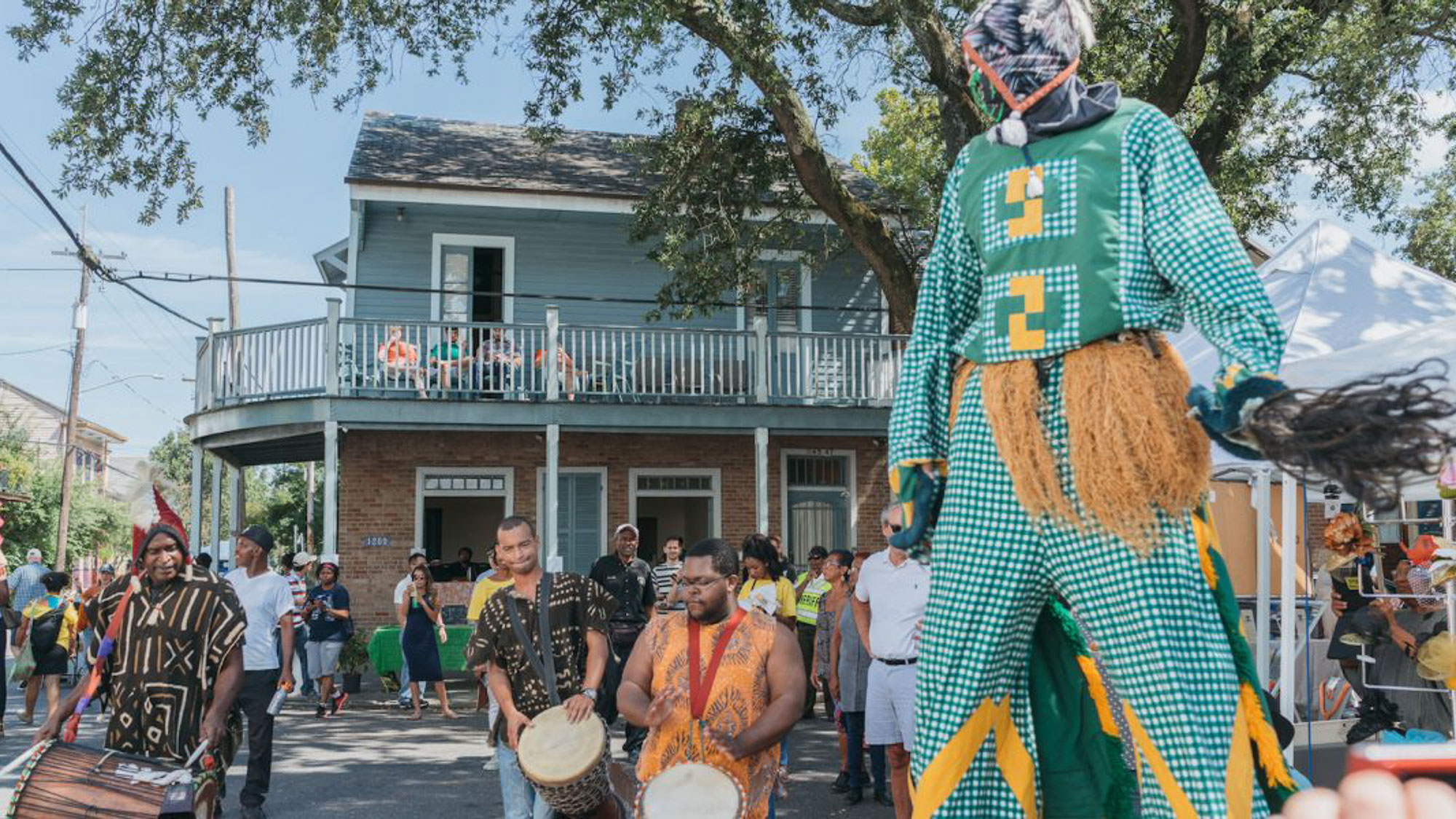 Autumn
Southern Decadence
Date: September 2–6, 2021
New Orleans' largest LGBTQ celebration there are tons of weekend events including a fundraiser for Project Lazarus, a gay bar crawl, drag brunch, and the Southern Decadence Parade in the French Quarter. Check website for all events.
Learn more:
Crescent City Blues and BBQ Festival
Date: October 16-18, 2021
Yup, an entire festival dedicated to Blues music and BBQ put on by the New Orleans Jazz and Heritage Foundation.
Learn more:
NOLA Jazz & Heritage Festival and Foundation
Halloween, including the Voodoo Music and Arts Experience and Krewe of Boo
Date: October 29–31, 2021
Halloween lasts a whole week in New Orleans with parties all over the city, but the main events happen the weekend of Halloween. Don't miss Krewe of Boo, the spectacular, official Halloween Parade or the Voodoo Music and Arts Experience or "Voodoo Fest" with over 2,000 musical and visual artists.
Learn more:
Treme Creole Gumbo Fest
Date: typically November
Find an awesome lineup of musicians, art markets, and food markets offering classic New Orleans cuisine at Louis Armstrong Park. Admission is free.
Learn more:
Bayou Classic Weekend
Date: November 26-27, 2021
The Bayou Classic weekend of events highlights and celebrates athletic and academic achievement and competition with a variety of sporting events and beyond, including a thanksgiving parade.
Learn more:
{$section.image}
{$section.placeName}
{$section.address}
{$section.addressNotes}
{$section.description}
Saw this interesting article on Portico and wanted to share it with you:
{$section.title}
{$section.content}