Brick Lane: 5 Things to Know About This East London Neighborhood
Shaped by centuries of immigration, artisanal influences, and class politics, Brick Lane , in the industrial "East End" of the city, has become the epitome of a melting pot. Our tour of this neighborhood is led by Pete, an adopted Londoner originally from Manchester and a local of the street for a number of years. His walk digs deeper into the intricate details and unexpected stories found on and around Brick Lane but, to whet your appetite, here's five things we think you should know about Pete's beloved stomping ground.
1. It is London's most global street.
Brick Lane has long provided sanctuary to those escaping persecution in other countries. French Huguenots arrived here in the 17th Century, later followed by waves of Jewish refugees – many of whom fled pogroms in mainland Europe – and also Irish settlers. Nowadays, Brick Lane is predominantly associated with the Bangladeshi community, and its street signs are inscribed with both English and Bengali translations.
One of the ways in which the global identity of this area can be summarized is through its food businesses. Lined with curry houses such as City Spice andSheba , infamous rival beigel bakeries Beigel Shop and Beigel Bake , "chippies" (fish-and-chip takeouts), and street-food stalls selling everything from Tibetan momos to Ethiopian injera, you can quite literally eat your way around the world when visiting Brick Lane. Another microcosm for the neighborhood is the Brick Lane Jamme Masjid ; a building that started life as a Protestant church before becoming a Methodist chapel, then a synagogue, and finally a mosque, which it serves as today.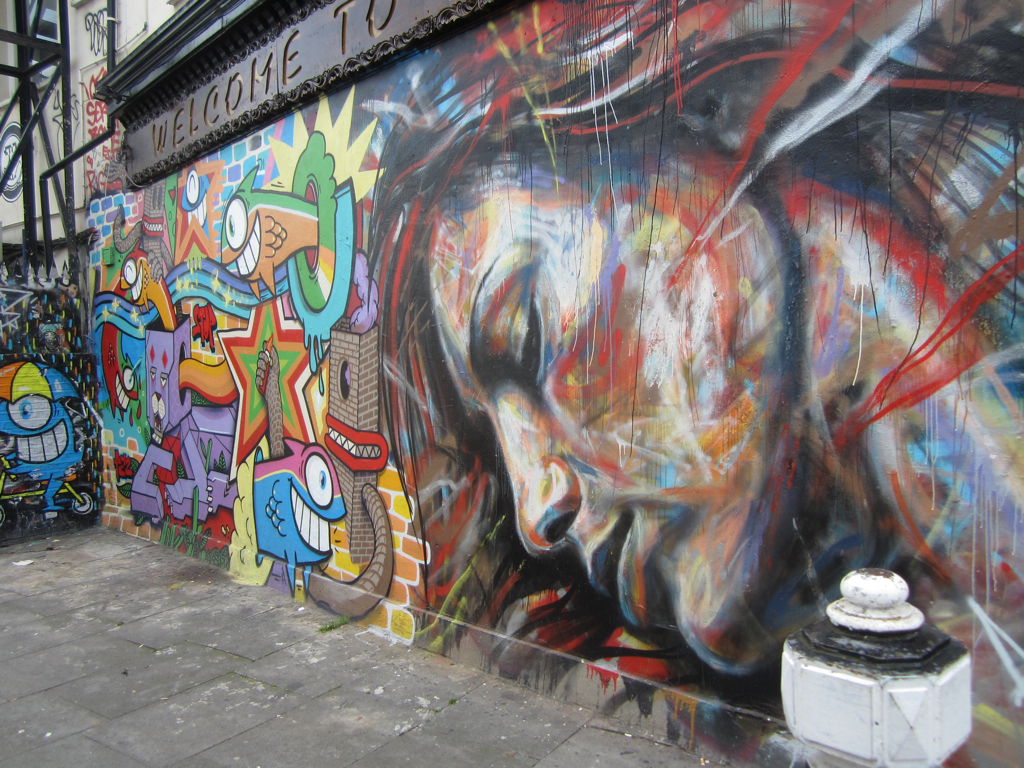 2. There is street art everywhere.
Whether it's contemporary Pointillist portraits or floating, painted drinks cans, the colorful and diverse urban artwork is what attracts most people to this area. Pieces range from small 'slaps' (stickers) on lampposts and stencils on walls to full-blown murals and collages. Artists such as Stik, ROA, and D*Face have all contributed to the ever-changing gallery, and there's even a Banksy – although it might not be in the kind of style you've come to expect from him.
There really is something new and beautiful wherever you look around Brick Lane and its surrounding streets. But unless you actually know where to look, you might miss something, so that's where our guide Pete's insider know-how comes in.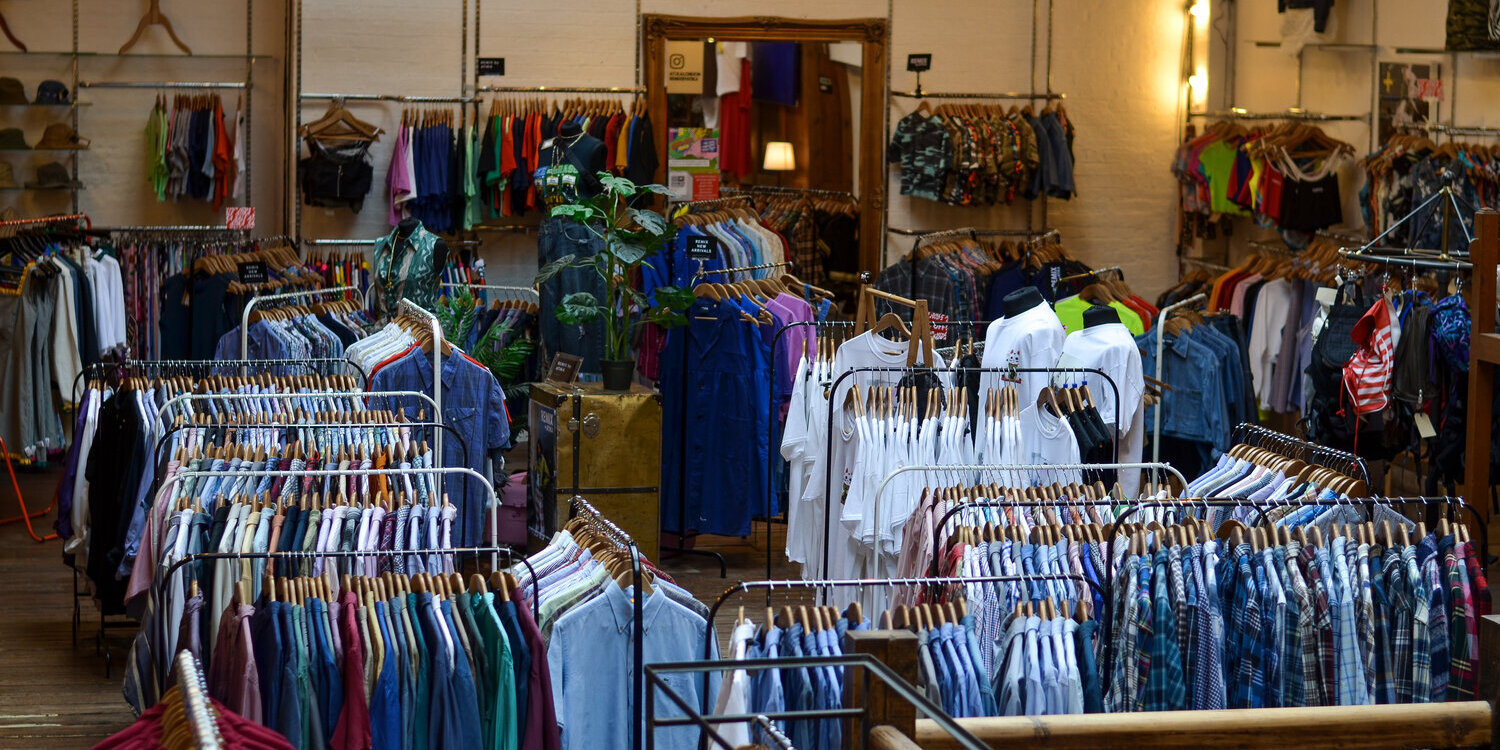 3. It was once the fashion capital of the world (and is still a shopper's paradise).
It's no minor coincidence that one of the side-streets off Brick Lane is named 'Fashion Street'. In the past, the creative crafts of dressmaking, drapery, weaving, and tailoring were brought to east London by its Huguenot and Jewish populations from the continent, which led to a booming fashion and textile industry emerging in this corner of the capital.
In current times, it still boasts an impressive catalog of independent designers, alternative clothing outlets, weekend markets such as Upmarket and the Backyard Market, and vintage shops likeRokit andATIKA .
4. It was where the 'Matchstick Girls' strike meetings took place.
This is history that many lifelong Londoners don't even know about, and it always shocks people to learn of it on Pete's tour of Brick Lane. We won't say too much, in case you later decide to join the walk for yourself, but here's who the Victorian 'Matchstick Girls' were in a nutshell.
They were mostly from Irish immigrant families and worked grueling hours in an East End matchstick-making factory where they were subjected to appalling treatment. In a lot of cases, they were also far younger than today's legal age for employment given that match-making was so fiddly – more efficient when performed by smaller hands. The white phosphorus used in those days to coat the ends of matches was highly poisonous, and girls were dying horrific deaths as a consequence of handling it.
Industrial action protesting this gross negligence, spearheaded by socialist campaigners Annie Besant and Eleanor Marx, was planned in meetings held at Hanbury Hall in 1888, just off Brick Lane. It was ultimately successful, helping to pave the way towards better rights for female workers and the British trade union movement. It is also said to be how the term 'strike' originated, used to describe employees deliberately abstaining from their jobs to gain justice and recognition for demands such as fairer wages and safer working conditions.
5. It is under increasing threat from gentrification.
Most recently, plans were approved to build a new office and shopping complex on The Truman Brewery site, which has stood on the corner of Brick Lane since 1666. The brewery might have closed in 1989, but the historic building has since lived on as an arts venue and a hub of independent retailers. Therefore, this proposal has caused additional concern for many majority working-class local residents and business owners who already fear being priced out of the area by big developments and rising rent.
With the future of Brick Lane as we know it in jeopardy, now is a crucial time to visit and celebrate its diversity and timeless quality by supporting local businesses; whether that's buying a good read or two from Brick Lane Bookshop , grabbing an espresso from Nude Coffee Roasters , or listening to vinyl DJs and banging playlists over a beer in Cafe 1001 .
If you want to hear more about the fascinating heritage of the neighborhood, join Pete as he walks and talks through the culture and characters of the area. On the other side of the River Thames, you can also take our tour around London Bridge with David.
{$section.image}
{$section.placeName}
{$section.address}
{$section.addressNotes}
{$section.description}
Saw this interesting article on Portico and wanted to share it with you:
{$section.title}
{$section.content}