by

CassandraV
I'm living in downtown Portland and exploring all of the local restaurants and outdoor sights! I'll be updating as I discover new spots that I love.
Eat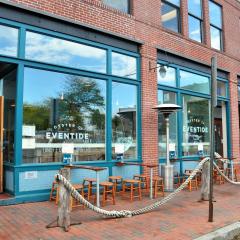 Eventide Oyster Co.
Great seafood spot with lovely outdoor seating! Our favorite dish was the fried haddock.
MOBILE SUSHI BAR | Mrtuna
Mr. Tuna has the best sushi in Portland! The hand rolls that he sells offer a truly authentic taste of Japanese sushi. I also love that his menu rotates, so you can always find something new to try.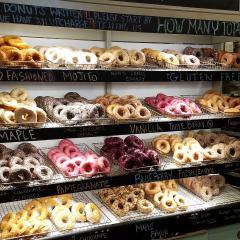 The Holy Donut
Holy Donut is such a popular spot for both natives and tourists. They sell honestly the best donuts I've ever had. Even though they're a bit touristy, I highly recommend trying them, especially if you've never had potato donuts.
Slab Sicilian Street Food
This such a great pizza spot! They offer Sicilian style pizza, which is to die for. They also sell Luna bread, which is great to take home for sandwiches.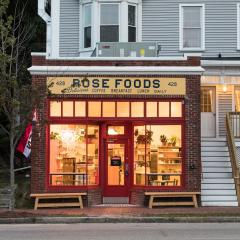 Rose Foods
This bakery has the best bagels in Portland! I recommend trying out the daily special, as you'll get to try some unique flavors.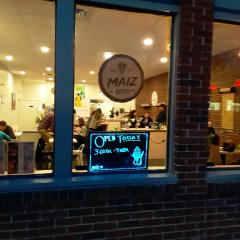 MAIZ colombian street food
If you're looking to try Colombian food, check out this spot. They're arepas are delicious and they have a wide variety of small dishes to try. If you do want to try arepas, definitely stick to just one, as they're quite large. My favorite item on the menu is their pan de bono, and yuca and cheese roll that is incredible!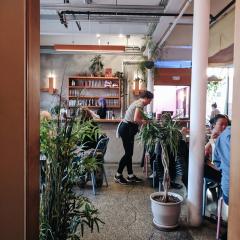 Cong Tu Bot
I loved the food here! Because of COVID, they only offer takeout on specific dates, but I highly recommend trying them if you can. The papaya salad is delicious and a great entree choice is their pho.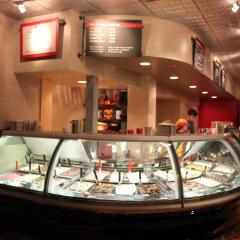 The Gelato Fiasco Old Port
This is my favorite gelato spot in Portland! You can find pints of their gelato at a lot of local grocery stores, but you can also visit their location in Old Port for just a scoop. My favorite flavor is Doughing Me, Doughing You, a vanilla base with hunks of peanut butter cookie dough, chocolate chip cookie dough and brownie dough bits, along with chocolate bar pieces.
Radici
This is another great pizza spot in Portland! The pizza is Neapolitan with naturally fermented dough, and they offer really unique flavors. Our favorite flavor so far is Mami, but their flavors change weekly, so you never know what they'll have!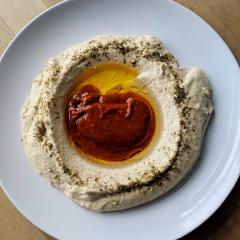 Nura Hummus and Falafel
We love this spot for middle eastern food! They combine traditional middle eastern dishes with modern flavors, and the prices are really reasonable. So far, our favorite dish is the falafel pita!
Thai ESAAN
This is the best Thai restaurant in Portland! They offer authentic isaan food at a great price. We love their som tum and chicken rice dish!
Blake Orchard Juicery
This is a great spot for smoothies and drinks. You can order one of their pre made smoothies, or customize your own with lots of fun and healthy ingredients. Great spot for breakfast or lunch!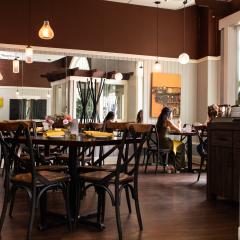 Mi Sen Noodle Bar
This is a great spot for noodles! It's a family owned restaurant that occasionally offers food by Mitr, another Asian food restaurant.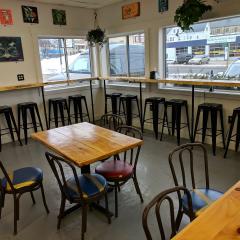 Rover Bagel
This place has the best bagels in the Portland area! They were listed as one of the top bagel spots in the country by Food and Wine. Their wood fired oven bagels are charred to perfection and they have a great flavor selection.
Norimoto Bakery - Portland Food Map
This is a great local bakery popup with Japanese inspired flavors. Everything is delicious and has a perfect balance of sweetness.
Siblings Bakery - Portland Food Map
Siblings Bakery is a great local bakery! The owner is Russian-Korean and her bakes draw from her heritage. I especially love the donuts!
Hiking & Outdoors
Digital Trail Map » Portland Trails
Portland has so many great walking trails throughout the city. This site includes a map of all of the trails both within the main city and on the outskirts.
Eastern Promenade
If you're looking for a spot to enjoy the views of Portland, definitely visit this park. It features a large hill with fantastic views of the harbor. You can also find food trucks there quite often, such as Mr. Tuna.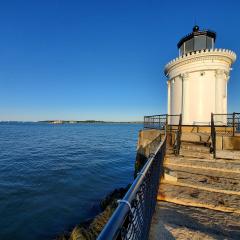 Bug Light
This is such a cute lighthouse in South Portland. It's also a great alternative to the much more touristy Portland Head Lighthouse. It's not quite as majestic, but the park is the perfect spot to sit and enjoy the ocean.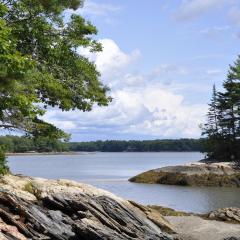 Wolfe's Neck Woods State Park
Less than 30 min outside of Portland, this is a great park with a variety of trails. It's right on the ocean, so you can walk along the rocky beach, or enjoy wooded trails.
Pietree Orchard
If you're looking to explore Western Maine, definitely stop at this orchard. The views are absolutely incredible, and they offer several delicious heirloom apple varieties.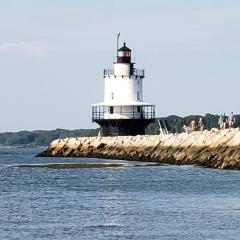 Spring Point Ledge Lighthouse
This is a great stop if you're planning a lighthouse tour of Portland. Within walking distance of Bug Light, Spring Point Ledge Lighthouse is a great spot to view the city. There's also a really neat bunker that you can explore along the beach.
Cliff Trail
If you're looking for a relatively easy going trail with stunning views, this is a great pick! The trail walks along a ridge overlooking a lake.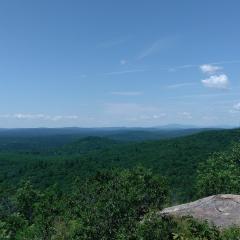 Abbott Mountain
This mountain has absolutely incredible views at the top! It's one of those peaks where you have wide open views of the surrounding landscape. We also saw some wild turkeys at the top! If you do decide to visit during hunting season, be sure to wear blaze orange.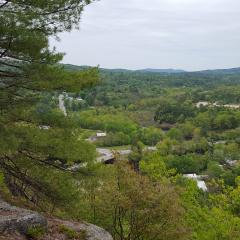 Mount Cutler
This is a great mountain hike about an hour outside of Portland. If you decide to go during colder months, bring ice and snow gear, as the top can get very icy. There are a ton of trails here, you could spend all day exploring!
{$section.icon}
{$section.name}
{$section.sidebar}
{$section.tripItems}
{$section.icon}
{$section.name}
{$section.images}
{$section.tripItems}
{$tripItem.image}
{$tripItem.favorite}
{$tripItem.title}
{$tripItem.notes}