by

Jacqueline
My new (not so new hometown). This list will keep evolving as I try new places and revisit favorites.
Eat - South End
Aquitaine
A South End standby, this upscale French bistro has won quite a few awards. Perfect for a cool day, glass of red wine and scrumptious food. I'm partial to the duck breast or steak frites!
B&G Oysters
B&G is one of my go-to's for friends visiting Boston for the first time. Tucked away in the gorgeous South End, this cozy place with friendly staff turns out awesome seafood. The lobster roll is a delicious standby, and I always enjoy the halibut and spaetzle if they have. Plus the french fries and chocolate mouse - yum!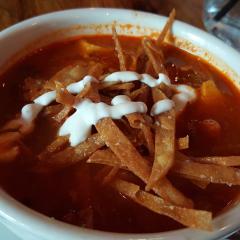 El Centro Mexican Restaurant
Perfect for lunch. This authentic Mexican restaurant serves street tacos the way they should be - a small shell, a bit of meat and a dab of sauce. The guacamole is perfectly made too.
KAVA neo-taverna
Cozy Greek in the South End. A local's hang-out, especially in the summer outdoors. Definitely order the oktapodi (grilled octopus) and kolokithakia (zucchini chips - they're massive & addictive). The grilled lamb chops are also awesome, as well as the uvetsi (braised beef short rib).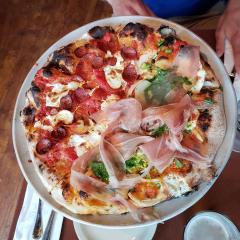 Picco
Some of the best pizza in Boston. Go classic or choose from their creative combinations (which change regularly). The arugula salad is a perfect light complement. I've also heard their ice cream is amazing, but have always been too full to try it!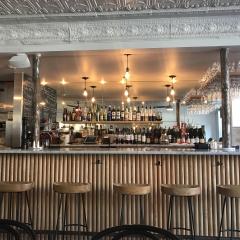 Frenchie Wine Bistro
Cute, casual French newcomer to the South End. Easy to sit at the bar and share a few dishes with friends. For lunch, I prefer dining al fresco and their tartines (especially the mushroom one), for dinner I go straight for beef bourguinon, brussels sprouts and herbed french fries!
Myers+Chang
Ready for Asian? Definitely go to Myers & Chang. Husband /wife team Christopher Myers / Joanne Chang (also Flour Bakery) has created a unique place in Boston. The menu blends Chinese, Vietnamese and Korean dishes with the perfect blend of spices and heat. Don't forget to order the hakka eggplant or the pork belly buns!
Eat - Seaport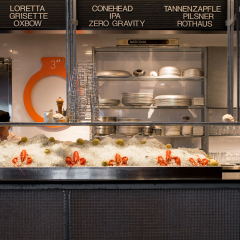 Row 34
Perfectly cooked seafood plus oysters straight from the source. The owners are related to Island Creek Oysters, and Row 34 is the 34th row in their oyster bed in Duxbury where they experimented with raising the oysters in a different way. It's always crowded so make a rezzie or grab a glass of wine and hope for a spot at the bar.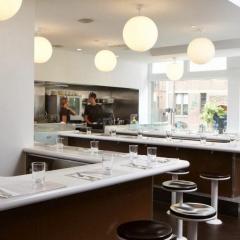 Sportello
Think cool night, warm hearty pasta and Sportello is your spot. The pasta is hand-made in-house everyday. The strozzapreti with braised rabbit is a particular favorite and one of Chef Barbara Lynch's signature dishes here. During the week, stop by Drink for a cocktail if it's busy.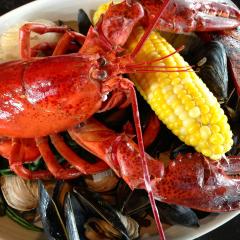 Legal Harborside
Normally I wouldn't recommend a chain for seafood, but Legal's is an exception. An institution around Boston with multiple locations (each has a slightly different name based on its neighborhood), Legal's is solid for good seafood and made to handle crowds. Legal's Harborside is especially nice in the summer with its varying flowers, open windows / roofdeck and views of both the water and the airport traffic.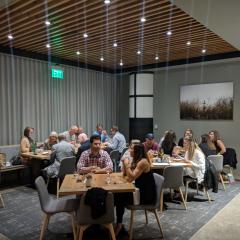 Chickadee
Not really for the tourist given its location in Dry Dock. But awesome Mediterranean if you work in the area or for lunch / dinner. The menu changes seasonally so hard to suggest a dish.
Eat - Back Bay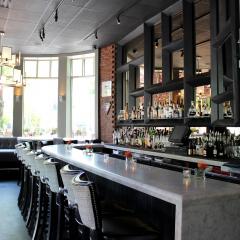 Deuxave
For me, it's only at the bar or on the patio. The dining room is a bit stuffy for me. But the food is delicious and the bartenders friendly. Whether you're ordering a gin martini, glass of wine or PBR, they're happy to help! Oh, and their foie gras is always divine.
Saltie Girl
Fun, different, tiny. They import tinned seafood, so if that's your thing, you'll love it. Portions are big, but food is good and it's a nice change from other places.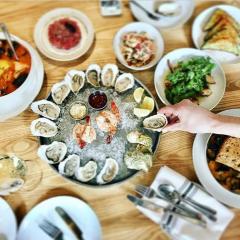 Select Oyster Bar
The chef here came from Neptune Oyster, and created a wonderful seafood oriented menu. Everything is delicious, although I think it's a little expensive so don't go frequently.
Eat - Fenway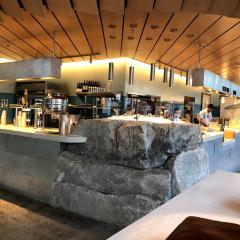 Eventide Fenway
A Portland Maine extension turned fast casual. Eventide still feels nice, yet gives you a chance for a quick, yummy seafood oriented meal.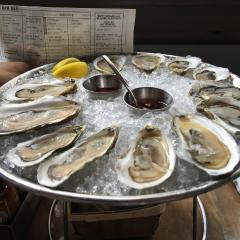 Island Creek Oyster Bar
One of Boston's original oyster bars, this standby is always a good meal. With it's own oyster farm in Duxbury, the team knows oysters well up and down the coasts. If it's busy, go next door to the Hawthorne for a craft cocktail, then return for scrumptious seafood. Oysters and the lobster roll are always my go-to dishes.
Time Out Market Boston
New, cool, awesome if you don't know what you want to eat. Time Out's first market was in Lisbon, their second in Boston. An expansive, 25,000 square feet of food! Features highly rated Boston restaurants and great chefs...with just a sampling of their dishes or perhaps something new they're trying. Pop by before a Red Sox game or wandering around the Fenway neighborhood.
Eat - North End
Boston Public Market
Part farmers market, part food hall. It's easy to stop by when exploring the sites downtown. If the morning, stop by George Howell coffee...in the afternoon Crescent Ridge creamery. That might just be the best ice cream you've ever had.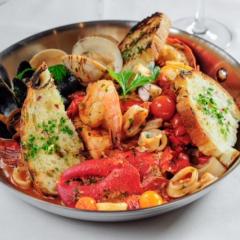 Mare Oyster Bar
Nestled in the North End, Mare is a special treat for me. It's amazing seafood and I've always had great meals here. In the shoulder seasons it's fun to sit on the back patio with friends circled around the big outdoor firepits (gas of course).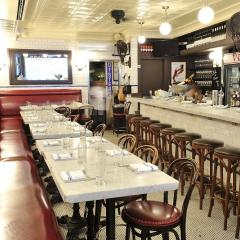 Neptune Oyster
Be prepared for a wait. This tucked away gem made the news years ago so there are lines out the door. Try for an off-time, or put your name down and then wander the streets of the North End. The vitello tonnato, lobster roll and burger are always delicious...and the fries addictive. But really you can't go wrong with anything here.
Eat - Cambridge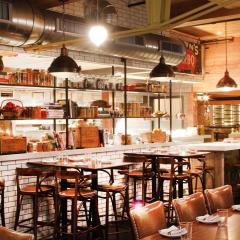 Alden & Harlow
One of my favorite restaurants in Boston, chef Michael Scelfo does an amazing job. There's a long bar, so you can hope for a spot there, otherwise definitely make reservations in advance. American style focusing on trusted farmers with fun combinations and flavor forward food. It's not just roasted carrots, there's a bit of honey, torched reggiano custard and burnt onion jam : ) The ubiquitous kale salad has been a staple for years, along with the secret burger that regularly sells out.
Benedetto
Transport yourselves to northern Italy with a visit to Benedetto. An upscale restaurant with attentive staff, it's a perfect place for a special evening out.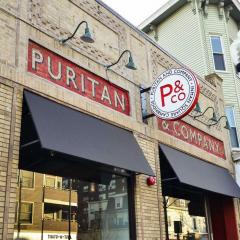 Puritan & Company
Chef Will Gilson continues to surprise and delight in this modern New England American restaurant. If you're a cooking fanatic, grab the back bar if you can to watch them make the salads and desserts and have an eye into the kitchen. They source from local small farms. The chef has a way with meats so I tend to go for a pork chop, although everything has been delicious. It's also great for Sunday brunch. If you need a cocktail before or after, check out Trina's Starlite Lounge just down the street.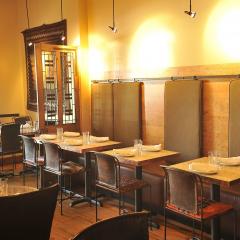 Oleana
Cosy indoors and AMAZING garden seating in the summer. Ana Sortun has delighted locals with her Turkish / Middle Eastern cooking for years. She uses vivid flavors & aromatic spices, blending cinnamon, sumac, tahini, baharat and more. The result is heaven. Ottolenghi, watch out!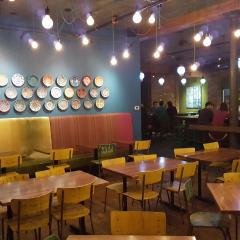 Sarma
Sister restaurant to Oleana, Ana Sortun partners with Cassie Pluma to create modern Middle Eastern mezze in a casual environment.
Coffee
Thinking Cup
Serving Stumptown coffee, Thinking Cup is a great place to start your day. The espresso drinks are made perfect, snacks are great and sandwiches good too. The zucchini bread and roasted chicken sandwich are my favs.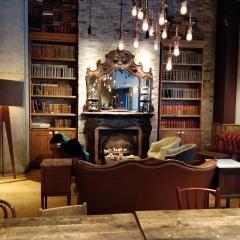 Caffè Nero - downtown
European style coffee chain that launched in Boston. Great coffee and pastries, plus a very cool design aesthetic. I particularly love the wood bookshelves and cozy chairs by the fire in this location. It's so much more comfortable than a Starbucks, plus better coffee! They've expanded significantly so have almost 30 locations in Boston.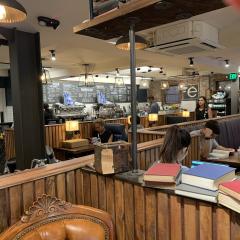 Caffè Nero - Back Bay
Back Bay store of a European style coffee chain that launched in Boston. Great coffee and pastries, plus a very cool design aesthetic. With reclaimed wood & comfy chairs - each space is uniquely created to feel like it could practically be part of your home.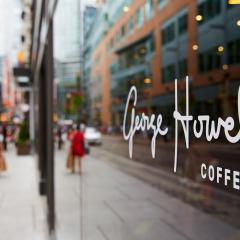 George Howell Coffee
A delicious, local brand for coffee. Their primary spots are here, attached to the Godfrey hotel and in the Boston Public Market. George Howell was a pioneer in coffee in the 1970s, especially from Boston. When he moved back from Berkeley CA he was dismayed at the coffee scene, so created Coffee Connection. 20 years later he sold it to Starbucks and then traveled the world to explore coffee. Now he's back, with amazing, small batch craft roasted coffee.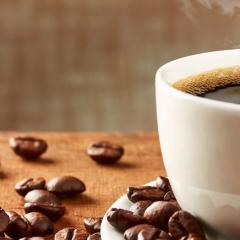 16 Essential Boston-Area Coffee Shops
For the coffee lovers...a list of local places to try.
Bakery / Breakfast
Cafe Madeleine
A beautiful French bakery nestled in the South End. Excellent for croissants, macaroons and madelines! Close your eyes and you'll feel like you're in Paris. 😀
Flour Bakery & Cafe
Flour exists in a couple places - Back Bay, South End, Kendall Square. Known originally for their sticky buns (yum!) they make excellent cookies and pastries, along with salads and sandwiches. Started by Chef Joanne Change when she changed careers, she's an inspiration to the rest of us.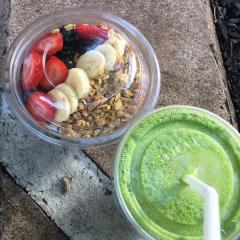 JUGOS
Best juice in town. Fresh squeezed, nothing frozen. In fact your juice is room temp...unless you grab one from the fridge. There's almost always a line. I love their nut milk cacao combos too.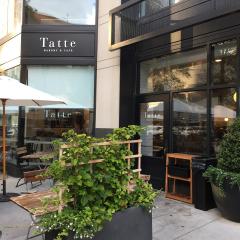 Tatte Bakery & Cafe
A must-try bakery / lunch spot by Tzurit Or. Tzurit sold her baked goods in farmers markets for 20 years before opening Tatte. It caught on like wildfire and there are now many around their city. The use Stumptown coffee (awesome) and the Kouign-Amann and Cinnamon Walnut Coffeecake are my fav pastries. She's know for her cinnamon-pecan or chocolate rose, but those are big so split it with a friend. I also love her salads and lunch fare. The chef grew up in Israel and their flavor profile definitely shows in her menu - delicious!
The Friendly Toast
Great sit-down but not fancy spot for breakfast. There's also a location in Back Bay near the train station.
Cocktails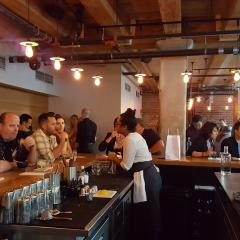 Drink
No menus, just tell the bartender what you're in the mood for and he'll craft something for your delight. Work crowd during the week, younger crowd on the weekend.
Lucky's Lounge
An institution...and a right of passage for young Bostonians. Best to stick with beer or easy cocktails here. If you want something complex or fancy, walk across the street to Drink.
The Hawthorne
Mixologist's heaven. Visit here before dinner at Island Creek Oyster Bar.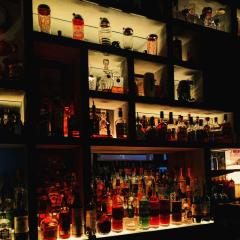 Trina's Starlite Lounge
Almost hidden away near Inmam Square, look for the Miller High Life sign to find Trina's. Yet inside you'll find stellar bartenders with creative craft cocktails. A perfect way to start or end the evening. My plan is typically to start here, then hit up Puritan & Co...and potentially return later.
{$section.icon}
{$section.name}
{$section.sidebar}
{$section.tripItems}
{$section.icon}
{$section.name}
{$section.images}
{$section.tripItems}
{$tripItem.image}
{$tripItem.favorite}
{$tripItem.title}
{$tripItem.notes}